(Tour A) 17-25 Feb
(Tour B) 24 Feb-3 Mar
TOUR CANCELED AS OF 24 NOVEMBER 2023
SIGNED UP: 95 (A 49, B 46).  NATIONALITIES REPRESENTED:  Australia  Bulgaria  Canada  D. R. Congo  Denmark  Finland  Iceland  India  Ivory Coast Jamaica  Nigeria  Norway  South Africa  Switzerland  Singapore  Sweden  Ukraine  United Kingdom  United States
---
WALK WHERE JESUS WALKED
We hear a good deal of talk about doing what Jesus would do (WWJD?), but how about walking where Jesus walked? We invite you to join the 2024 annual tour—as we return to Israel.
Benefits of joining the tour:

Your faith will be strengthened. You'll no longer have to imagine what the biblical world looks like. Now you can remember!
The fellowship is invigorating. Make new friends from around the globe. Since the Biblical Study Tours began, over 1000 persons have taken part!
The Bible comes to life, revealing new dimensions—as you better your grasp of history, geography, biblical characters, and the flow of the biblical story. With a more solid understanding of scripture, your confidence in talking to others will grow.
Your heart will fill with memories to last the rest of your life. You've thought about these locations for years; now's your chance to experience them—or experience them anew, if this will be a return visit.
Sites
Includes most or all of the following: Mount of Olives, communion service and private prayer in Garden of Gethsemane, Palace of David, Temple Mount, Church of the Holy Sepulchre, Armageddon, Tel Dan, Caesarea Maritima, Caesarea Philippi, synagogue and 1st-century home of Capernaum, Sea of Galilee devotional cruise, shopping, Nazareth Village, Samaria, Mt. Gerizim, site of the Tabernacle and ark at Shiloh, Bethlehem, Shepherds' Fields, Qumran, Masada, Dead Sea,,,
Dates
Tour dates are 17-25 February 2024 (group A) and 24 Feb-3 Mar 2024 (group B). We begin with dinner in Tel Aviv on the evening of 17th or 24th, and the closing dinner is in Jerusalem on the 24th (group A) or March 2nd (group B). You'll stay that night and fly out sometime on the 25th or 3rd. (The opening dinner for group B is the closing dinner for group A, so everyone in both groups will have time to interact on the 24th.)
Who may come?
The tour is open to everybody, believers and seekers alike. Children age 12 and above are also welcome, provided they are mature enough to appreciate the sights.
There is a fair amount of walking around the various sites (5-8 km / 3-5 miles a day), including hilly terrain, so a reasonable level of personal fitness is desirable, and good walking shoes / boots are a must.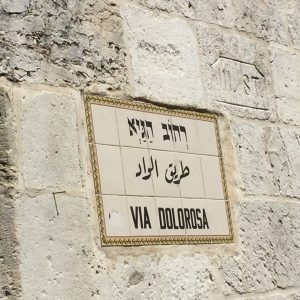 How to Register
All communication is through email. To join the tour, please email me. I'll add you to the interest list, and then contact you personally. Once you're in the system, you will receive periodic updates.
You're registered only after your deposit (or full payment) has been received, or sponsorship has been verified. Also send in your personal details (scroll down). If you're applying for a new passport, register now and send passport details when possible.
Price
The price for the 2024 BST is $2450. The price includes hotel, all breakfasts and dinners, admission fees to sites, tips, porters' fees, transportation by private coach, and airport transfers. All you need to bring with you is money for lunches (about $15/meal).
Prices are based on double-occupancy in hotel rooms. If you're coming alone, or you would prefer a single room, there is a $950 single room supplement. If you prefer a roommate, we will do what we can to connect you with another tour member coming alone—though we cannot promise. After the final payment deadline, room changes cannot be guaranteed.
Payment
Payment is most easily made by check (US and UK citizens), credit or debit card, PayPal, money order, bank wire, Venmo, or Western Union.
All transactions are conducted in US$, which may entail the risk of exchange rate fluctuations.
Checks: make out to T&R and mail to 957 Shy Lane, Marietta GA 30060. (Britons: UK cheques may be sent to our UK address. Use exchange rate for day you post check, for example at xe.com.) Or pay with any major credit or debit card (+3%), or by PayPal (+4.4% processing outside the US, 3% inside) to dj@douglasjacoby for 'BST Israel 2024'. Debit & credit: send 3 details (card number, expiration date, amount) in 2 separate emails (for security) to dj@douglasjacoby.com. Fo international bank wire ($15 bank charge), contact us. Or pay by Western Union or Venmo (@douglas-jacoby-1 —no charge). Choose the method best for you, and email your choice.
The deposit is $300. If you're paying in full, of course, the deposit is included in your total. (Please read this, even if you are sure you won't cancel.)
Payment after 15 Sept 2023:  $2450
Single supplement:  $950
Travel Insurance (US members)
Travel insurance is available as a separate package at an extra cost. The cost of travel insurance is approximately $210 to $350, depending on length of tour, tour inclusions, etc. Tour participants may call our agents' associate office in New Jersey, Prime Travel, to purchase travel insurance and obtain the exact rate for your tour. The travel insurance policy is a contract between traveler and Insurance Company (Travel Guard, Allianz etc). Tutku Tours has no role in booking or in the payment of the travel insurance. When you call to inquire about travel insurance, please mention your group name (Tutku—BST Jacoby). Prime Travel's phone number: 1-201-825-1600. Contact: Mrs. Armagan Ayata or Mr. Sal Kesedar.
PHOTO: Feb 2022 group at the Pool of Siloam
Information required for all participants:
Everyone on the BST should send in the following details:
Full legal name (as it appears on your passport)
The name you would like to appear on your name badge (first name and surname).
Gender
Your country or countries of citizenship
Passport number
Passport expiration date. Israel will not let you enter the country if your passport doesn't have at least 6 months remaining.
Your birthday: day, month, and year
Please also send us the name of the city and nation where you reside.
If you are signing up for another person, be sure to include his/her email address.
Do you have any food allergies? (Please specify.)
Cancellation policy
You can view the cancellation policy here. (Please read, even if at the moment you're sure you won't cancel.)
Hotels
Our hotels are in Tel Aviv (first night only), Tiberias, on the Sea of Galilee (the next two nights), and Jerusalem (the next four nights). Category: European 4-star. Price based on double-occupancy. What better (advance) family Christmas present than a trip to the Holy Land?
Group A (17-25 Feb):
Group B (24 Feb-3 Mar)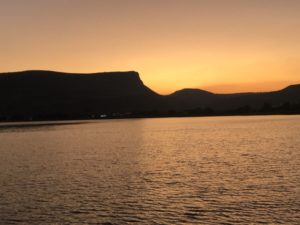 ITINERARY (provisional)
Day 1—Welcome dinner & orientation, 7pm at our Tel Aviv hotel
Days 2-3—Caesarea Maritima, Mt. Carmel, Tel Dan, Caesarea Philippi, Capernaum, Nazareth, devotional on Sea of Galilee...
Days 4-5—Samaria, Jacob's Well, Mt. Gerizim, Bethel, Shiloh...
Days 6-7—Palace of David, Hezekiah's Tunnel, Pool of Siloam, Temple Mount, Communion service in the Garden of Gethsemane, House & dungeon of Caiaphas, Hezekiah's Tunnel,  Israel Museum...
Day 8—Bethlehem, Church of Nativity, Shopping in the West Bank, Shepherds' Fields,
Day 9—fly home
Electrical
For info on Israeli voltage and electrical plugs, click HERE.
Dress
February is a cool and pleasant time of the year. This is the Mediterranean wet season, and temperatures are around 5-15 in the daytime (41-59 F), and around 5-10 (41-50 F) at night. Bring a light jacket or sweater. Dress is casual. However, when we visit synagogues, church buildings, and other holy sites, shoulders and knees must be covered.
Getting to Israel
Fly into Tel Aviv (airport code TLV). While you are responsible for getting yourself to Israel, our agents will meet you at the airport on the 17th or 24th and take you to our hotel. These airport transfers are included in the price of the tour.
Plan to arrive no later than 1630 on 17 or 24 Feb, as we need all participants to join the opening dinner. Transfer from airport to hotel on is included in the price, for all arrivals up till 1630. If you arrive after that time, please arrange a taxi.
(If you're flying through the night, you'd leave home on 16th/23rd, to land on the 17th/24th.) The welcome dinner / orientation in Tel Aviv is on the evening of the 17th/24th, and the closing dinner is in Jerusalem on 24 Feb/2 Mar—you'll stay that night and fly out sometime on the 25th/3rd. Breakfast on the 25th/3rd is included; return home anytime that day.
Opening dinner / orientation
At the orientation meeting (1900) on the 1st (right before dinner), you'll receive written materials, including your BST name badge, to be worn at all times during the tour. Questions will be answered, gifts distributed, and the group will get to know one another.
Regardless of how tired you may feel — esp. for those who have traveled 10 or 20 hours to Israel — make yourself stay awake so that there's no chance you'll miss the welcome dinner. If you end up taking a nap, we suggest you keep it short (2-3 hours) — otherwise you'll make it difficult for yourself to get onto Israel time. (Scroll down for suggestions on overcoming jet lag.)
Please do not arrive to Tel Aviv any later than 4:30 pm (1630) on 17/25 Feb. You don't want to miss the opening dinner and orientation. (Especially as we will share the meal on the 24th with the outgoing BST group.)
Flights
Airfare is not included in the tour price—as participants are coming from multiple countries. If you're flying from North America, flights usually run in the $900-$1500 range. Suggestions:
As for airlines, if you are frequent flyers, stay within your system.
Shop around. I like www.kayak.com.
Sometimes you save by creating two itineraries. For a recent Israel trip, I booked one round trip Atlanta-Amsterdam-Atlanta, and another Amsterdam-Tel Aviv-Amsterdam.
And ask your friends who fly….
Jet lag
If you don't do a lot of international travel, you may appreciate these suggestions for overcoming jet lag.
Extra days
If you want to arrive early or leave later, that is fine. Our agents can help you, or you can book your own hotel for those extra days. Rooms in Tel Aviv are about $360 a night, including breakfast and dinner. Sorry, airport pickup is included only for the official start and finish days, although the agents will be happy to work something out (extra cost $110).
Note: If you are arriving early (middle of the night or early morning) you may want to contact our agents and pay for an extra night, as a rooms are not guaranteed before early afternoon. (More often than not, they are ready, but we cannot promise this.) Tutku Tours will be happy to extend your reservation so that your room will definitely be ready when you arrive.
Tutku are available at info@tutkutours.com.
Changing money (buying shekels)
Of all the countries I've visited, Israel has the fairest money exchange. (There is negligible different between the buying rate and the selling rate.) You can change your money at the airport, while you're waiting for your luggage to arrive, or at any bank or exchange bureau. (Hotels also change money, but the rate is not quite as favorable.)
Security
Some people are uneasy about international travel, and especially about travel to the Middle East. Of course security is a priority—and Israel is by far the safest country in the Middle East. In fact, to be honest, in recent years there has been far more violence in Germany, France, Belgium, and the United States than in Israel.
In leading tours to Israel for over 20 years, we've never had an incident. The Israeli government backs the tourist agencies, so that if there is a legitimate need to cancel an entire tour, full refunds are available. After the payment deadline, refunds will not be made unless the tour is canceled.
As for the recent rocket attacks (Hamas/Gaza v. coastal Israel): This is expected to pass quickly. If there is danger, of course the tour will be canceled. It's too early to make such a decision. We are carefully monitoring the situation. 
Emergency contact
Here the contact numbers in the event you need to be reached urgently while in Israel, or if there is an issue and you need to talk to someone after you have arrived.
OPERATIONS:  Ms. Sema Ankarali – Mobile Phone: +90-532-296-9396
PRESIDENT:  Levent Oral – Mobile Phone: +90-532-296-6921
DIRECTOR:  Douglas Jacoby – +1 678-231-8881
Visas
Be sure to check to see if Israel requires visitor from your country to secure a visa before your travel. For some countries, like the US, visas are available on arrival. Other countries may require advance paperwork, or even an interview. Be sure also to ensure your passport has sufficient extra pages for the visa—and that it does not expire less than 6 months before the date you return to your home nation.
Previous BST and ITS locations (number of visits):
Athens (3), Berlin (2), Chicago, Colossae, Corinth (3), Delphi, Egypt, Ephesus (4), Geneva, Herculaneum, Hierapolis (2), Israel (12), Jordan (2), Laodicea (3), London (4), Oxford, Paris, Patmos (2), Pergamum, Pompeii (4), Rome (4), Sardis (2), Washington DC, Wittenberg (2), Zürich (2).
Participants in 2016: 144. Participants in 2017: 85. Participants in 2018: 115. Participants in 2019: 150. Participants in 2021: 37. Participants in 2022: 60. Participants in 2023: 68. Estimated, 2024: 99.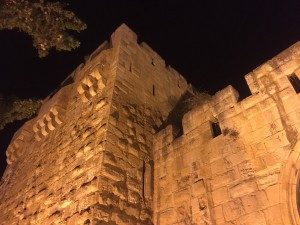 For more photographs, please visit me at Facebook or Instagram.
Click HERE for copious suggestions on:
Reading
Listening & viewing
Archaeology
The Israeli / Palestinian conflict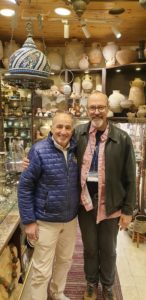 Finally, if you're interested in ancient coins (esp. around the time of Christ), I have a recommendation for your time in Old City Jerusalem:
Bassam Barakat Antiquities
78 David St.
Old City, Jerusalem
Tel: +972 544 282024/3
and +972 26285848
www.bbarakat.com
info@bbantiquities.com
Coins—whether Roman, Greek, or Jewish—are interesting pieces of history. They are portable, concise, affordable (for the most part), and they tell a story. I've been interested in coins since the age of 8. Perhaps you share this interest?
Photo: with Bassam Barakat, Israel 2023 BST