The Douglas Jacoby Podcast is dedicated to sharing the audio files of the International Teaching Ministry. The goal: to help us to THINK ABOUT FAITH.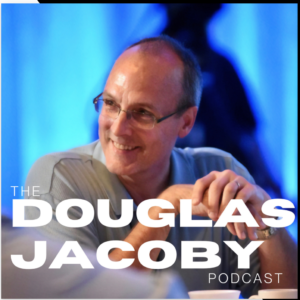 Podcasts are added every Monday, Wednesday, Friday, and Saturday.
You can check them out anywhere you normally listen to podcasts (Apple Podcasts, Spotify, Google Podcast & Radio Addict (at Google Play Store), Overcast (Available on the Apple Appstore), CastBox, Podbean (at Android & Apple Appstore, iTunes, Pocket Cast (at Google Play & Apple Appstore), and Android Browser (the browser within an Android Device)—please make sure to subscribe.
You can also follow the episodes, as they are posted, by following THIS LINK. The series so far (over 400 podcasts):
Old Testament characters
Messianic Judaism
New Testament characters
Current Issues
Proverbs
Psalms
The Paranormal
Romans
Worship
Sermon on the Mount
The 10 Commandments
Christ Through the Ages
Clean
A Tour Through John
Amos
The Imitation of Christ
Forty Days with James
Leaders