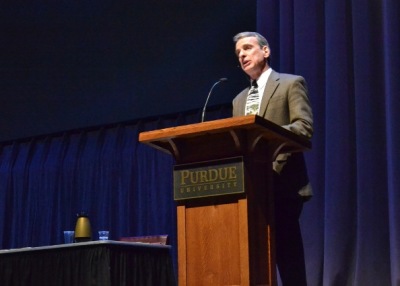 Christian theologian Dr. William Lane Craig during debate at Purdue University, Feb. 1, 2013. | (Photo: Nicole Byrd)
It's true – time really does fly.
Eight years ago, I wrote an article entitled "The Tragedy of the Dumb Church"[1], which struck a nerve with a lot of people. It was circulated widely on the web and also resulted in invitations to speak on some nationally syndicated radio shows.
In the article, I talked about how a friend of mine, who has a real heart for grounding youth in the faith, contacted all our community churches about conducting free-of-charge apologetics training for their young people. His gracious offer was sadly met with a talk-to-the-hand response from every local church.
Now it's my turn.