Our church is initiating a "Crusade" to take our city for Christ. This makes we wonder, what about the Crusades in the Middle Ages. What were they? As a Christian what do I need to understand about the Crusades?

I am happy to respond to the question in a podcast. Please click the arrow to listen to What Were the Crusades, and Why Does it Matter? (23 minutes).
To listen now, click on the arrow. To download the podcast and listen later, right click here.
Definition:

Simplified historical overview:

300s-600s

-- Most of the Holy Land is part of the Eastern (Byzantine) Roman Empire.

600s

-- this territory becomes part of the Caliphate (Islamic).

1000s-1100s

-- Christian warriors and peasants (all strata of society participated) strive to take back the land, establishing Crusader States, along with multiple fortifications.

1200s

-- Christians for the most part give up the dream of reconquering the Holy Land, instead targeting their crusades on fellow Christians and other perceived enemies.

Massive military attempts to recapture "Christian" territory, especially in the Holy Land, from the Muslims.
Pilgrimage meets (Old Testament) holy war.

The journey of faith is a biblical pilgrimage (Hebrews 11).
Even so, traditionally pilgrims were supposed to travel unarmed.

Up to 100,000 Europeans took part in these efforts.
Source of word: Latin crux, cross.

How many?

There were four major crusades, though many more took place even after these concluded in the 13th century.

First Crusade, 1095-1099
Second Crusade, 1147-1149 -- Crusader States established
Third Crusade, 1189-1192 -- setting of the film The Kingdom of Heaven
Fourth Crusade, 1198-1204 -- focused on Constantinople (capital of the [Eastern] Roman Empire), and Orthodox Christians, more than the Muslims

Subsequent crusades

E.g. Northern Europe and Spain
Last Crusade (Venice vs. Ottoman Turks), 1684-1699

Motivation?

Various: plunder, glory, peer pressure, family honor, wanderlust, etc.
Motivation must have been strong, esp. for those who spent a fortune in provisioning. (Imagine having to spend $100,000, or $300,000, to fund (and arm) yourself and your servants for the journey -- which could take many months! This isn't like shopping for a last-minute travel deal!)
Forgiveness.

"Plenary indulgences" promised by the pope.
As Douglas Groothuis remarks, "Claims made by popes that the soldiers dying in a crusade would be guaranteed heaven are entirely unbiblical and, in fact, resemble Islamic claims more than anything found in Holy Scripture" (Christian Apologetics, IVP Academic, 2011), 112.
If there had been no crusades, would indulgences have been the flashpoint of the Protestant Reformation? It's interesting to ponder...

Analysis

The crusades were a radical departure from basic Christian values.

Pilgrimage / holy war hybrid
Uncritical use of scripture -- combining OT holy war with Christianity.
 Precedents?

Augustine (354-430): "Just War" theory.
Byzantine conquest of southern and central Italy in 6th century.

 Attitudes

Before 13th century, crusaders could not believe that Muslims would want to become like the Christians, since the Muslims were so much more advanced culturally and economically. Easier to rationalize warfare over persuasion.
"The Franciscans and Dominicans saw no contradiction or opposition between crusade and mission" (Daileader, 158).
King Louis IX of France: Christians should let attempt to defend the faith, "except with his sword, and that he should thrust it into the scoundrel's belly, as far as it will enter."
French theologian Peter Comestor (d.1179), when asked by the Patriarch of Jerusalem whether crusading was really permissible in light of biblical teaching. In response, Peter told the patriarch to "act in a manly way, be composed, and shed the blood of Christ's enemies."

Example and teaching of Christ?

Jesus did not teach or exemplify violence towards those who rejected his message.
In contrast, Muhammad both preached and engaged in violence.

Muslim tolerance only if paid jizha (tribute money).
Otherwise, jihad!
Below: The scimitar is the curved sword historically wielded by Islamic warriors (as opposed to the more conventional swords of the Crusaders).

Ends & means?

Crusaders claimed to be doing God's will. So why after 1291 did the crusaders fail to hold on to Jerusalem and other parts of the Holy Land?
The Crusades were ultimately unsuccessful. These were a colossal failure, not "blessed" by God!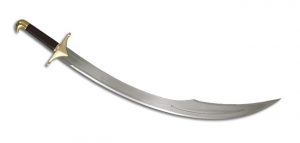 Conclusion:

Let's be informed.

Make it a goal to become generally familiar with key developments in church history.
Remember that the 4 major crusades spanned the years from the late 11th to the 13th centuries.

Let's be sensitive.

Be careful about language. "Crusade" is an unpleasant and even scary word for some people, especially Jews and Muslims.
Understand the bitter root that has taken hold among many Muslims -- the violence response on their part is not justified but it isn't irrational. It makes sense.

Let's be humble.

We need to "own" the evil of believers -- false and true -- through the history of the church, for instance the Inquisition and the Crusades.
Let's not act all "holier than thou."
We don't know for sure what we may or may not have condoned -- whether living in Spain during the worst 3 centuries of the Spanish Inquisition, or in Nazi Germany, or the century plus after the year 1000.

Let's be convicted.

While remaining humble, we should take a stand on the issue of treatment of one's enemies, since Jesus so emphasized this (Matt 5).
When the church on the whole embraced the way of violence, beginning in the 4th century, they were abandoning the call of Christ.
The Crusades are a disgraceful blotch on the history and the memory of the church of Christ.

Further study:

Basic:
Intermediate: "How the Crusades Changed History" (24 half-hour lessons by Philip Daileader), published by The Teaching Company.
Note: While it is true that many been killed in religious wars, far more have perished in the 20th century alone at the hands of atheistic regimes: some 39 million in war, plus 169 million more in state-sponsored execution, genocide, or persecution (total 210m).