IBTM Newsletter

16 August 2023
It's been a great week. Lots of fellowship, in person and on the phone. Working on my visa application. Progress on a new book. And we're gradually packing up the house (vacating in less than two weeks). Then—England!
In today's newsletter:
A report from our daughter, back from Nepal (inspiring)
An article on Matthew 11 by Australian Andrew Kitchen
An invitation to join AIM Spiritual Life (It's not too late)
A request for help for schoolchildren in Nepal
---
Andrew Kitchen on Matthew 11 ("Forceful Men")
Andrew Kitchen is a software engineer in Sydney, Australia. (And a friend.)
We are talking about John the Baptist – Jesus' cousin and ministry forerunner, who is now on death row for daring to call out the most powerful guy in the land over his relationship with his brother's wife Herodias. We know that ends – head on a platter stuff (Matt 14:1-12).  KEEP READING
---
Responses to the Athens Sermon
I flew back to the UK Monday last week, the day before having delivered a no-holds-barred talk in Athens, Georgia. I was asked to specifically address ways we need to change in order to be more like the church of the Bible. The Athens leadership also asked me to speak with conviction about any perspectives developed in recent years. I was happy to oblige!
Responses globally to last week's Athens sermon were extremely positive—all continents—thank you! A common theme in your feedback was hope. I read all your comments about the message, and welcome constructive criticism. One or two staff members found it too intense, but overall the sermon seems to have brought hope and refreshment to the disillusioned and exasperated.
---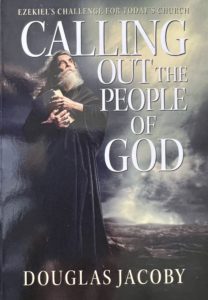 Perhaps you appreciated the Athens message—or maybe not. If clarification would be helpful, you will find it in my little book on Ezekiel, Calling Out the People of God.
This book (published 2022) was an appeal to Christians worldwide, and especially church leaders, to make the sorts of changes urged in the Athens message. Just as Ezekiel urged his generation to follow God's Word, so the clarion call must be sounded in our day.
To order CLICK HERE. Also available for Kindle and Android.
---
AIM Spiritual Life
On Saturday the Athens Institute sponsored a special event, with guest teachers Jim & Lindsay Long of Atlanta. We were joined by over 30 men and women from Canada, El Salvador, England, Nigeria, Norway, Portugal, Scotland, and the United States.
Course resources include 12 classes (video) by numerous teachers, plus the lessons taught by Jim & Lindsay Long. Further (as recommended by the Longs):
There's still time to sign up; the course doesn't end until late October.
---
At the right you see two of our recent graduates, Roma and Hanta Randrianavelona. We met in Madagascar a few years ago. (Madagascar is the large Indian Ocean island off the SE coast of Africa.)
They soon enrolled in AIM, did the work (despite the 7-hour time difference), and were honored earlier this year (long distance) in our graduation ceremony in Atlanta.
They were also recently honored in a special presentation in their church in Antananarivo. It's so gratifying to meet church leaders eager to improve their grasp of God's Word! May they continue to exert a godly influence on their congregation in Antananarivo.
---
Summer in Nepal, by Lily Jacoby
Our daughter Lily has been a schoolteacher for 11 years. A few days ago she returned from 10 weeks in the Himalayan kingdom of Nepal, putting her talents to good use. We are immensely inspired (and challenged) by how she is living out the Word of God. — Douglas & Vicki
After two days of flights and sleeping upright, I arrived in Kathmandu, Nepal, on 21 May—a bit rumpled, but excited to spend my summer at the Asha Vidhyashram School as a volunteer teacher.
If you've never visited Nepal, let me describe it for you. The streets are bustling with motorcycles and buses of all shapes and sizes, surrounded by brightly colored buildings. You see fruit vendors hard at work selling, farmers bringing in their produce, cows and dogs roaming freely, and the happy laughter of children playing in the streets. Prepare to smell incense as it wafts in on the breeze. Want sweet milk tea? You're just a few paces away. All of this is set against a backdrop of lush green trees and hills. KEEP READING
---
CAN YOU HELP the students of the HOPE school?
IBTM supports the Asha Vidhyashram School (where Lily spent her summer), by direct donation and also from a portion of your website subscription. In Nepal, as in many nations, parents must purchase school uniforms. Last year, $50 covered the cost of a p.e. kit (see the kids in the yellow shirts, above), winter coat, scarf, and hat. Due to your generosity, in 2022 IBTM was also able to purchase four computers for the school.
It gets cold in Nepal, and many homes are poorly heated, so kids sleep in their winter coats! The school director said it would be very helpful to receive funds by October—when the weather turns. The uniforms are produced locally—providing jobs—and enhance unity, identification, and safety.
If you'd like to donate towards this worthy cause, please click here (and please also shoot an email to drdajacoby@post.harvard.edu, so your gift goes to the right account). Our goal is to raise at least $5250 this year. Thank you.
For more about the school in Nepal, click here.
---
Goodbye for now
We hope you're having a good week. For us, it's the time of year for modest celebrations. Vicki's and my birthday plus our anniversary (no. 38) all fall just a few days apart. Goodbye for now. — Douglas