Here's the first podcast in the Sermon on the Mount series, "The Mountain" (10 minutes).
Click on the arrow to play the podcast, or you can use the "download" icon to download the podcast (if available). You can also right click here, in order to save the audio file and listen later.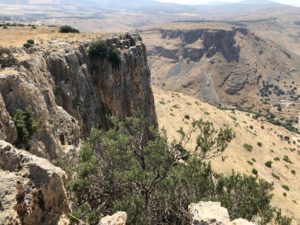 Seeing the crowds, he went up on the mountain, and when he sat down, his disciples came to him. (Matt 5:1-2 ESV)
Mountains in the Bible are associated with Moses (Exod 19-20), Elijah (1 Kings), and Jesus.

In Matthew, Jesus is found on mountains five times:

 Matt 4:8; 5:1; 14:23; 17:1-8; 28:16-20.

Matthew presents Jesus as the Second Moses (see Deu

t 18), a teacher of God's truth to his people.

Matthew has put Jesus' teaching into five blocks, like the five books of Torah (Gen-Deut) or the five books of Psalms. These blocks are Matt 5:1-7:29; 10:1-11:1; 13:1-53; 18:1-19:1; 23:1-26:1.
For more on this, watch Jesus Is the Second Moses (13 minutes).

Jesus and his disciples are seated—the normal position of a rabbi with his followers.

Throughout his ministry, both men and women alike sat at Jesus' feet (Luke 10:38-42).

W

e too must take time out to learn—to read and study…

Through the disciples Jesus spread the message among the people (as in Matt 28:19-20).

We may think of the eight beatitudes as a set of qualities. Jesus' focus is on the inner life, the kind of people we are, especially in difficult circumstances.
Next podcast: "Poor" (Matt 5:3)