.
Participants: 23 (from the US, UK, Canada, and Spain)
.
The apostle Paul was no stranger to prison. As he famously declared, "The Holy Spirit testifies to me in every city that imprisonment and afflictions await me. However, I do not account my life of any value... if only I may finish my course and the ministry I received from the Lord Jesus..." (Acts 20:23-24). In fact Paul faced imprisonment on multiple occasions (2 Col 11:5), including years incarcerated in Caesarea, Ephesus (quite possibly), and Rome (twice).



The sea voyage to Rome ended in shipwreck at Malta (Acts 27:1-28:1). A few months later the company made their way to Rome, by way of Sicily and southern Italy (Acts 28:11-16). We will be tracking Paul's final journey in the book of Acts. Although our accommodations are always on terra firma, we'll be traveling by a combination of land and sea.



Join us on this incredible voyage through a truly beautiful and historically fascinating part of the world. 



INCLUDES: Sightseeing as per the itinerary (below), d

aily open-buffet breakfasts, 

10 dinners at the hotels, t

ransportation by private bus, f

erry tickets 

Malta-Pozzallo

 and 

Messina-Reggio Calabria, e

ntrance fees to the sites and museums, h

eadsets for 9 days, c

ity taxes in Malta and Italy, s

ervice charges and local taxes, all tips to drivers and guides, t

ravel Bag, t-shirt, luggage tag, and tour map.




HOTELS
EXCLUDES: Flights (to arrive Malta & depart Rome), lunches, travel and health Insurance, any other services not mentioned above.
Extra nights: If you're arriving early or departing late and would like our agents to arrange your hotel, these are the prices:
PRE HOTEL MALTA—George Hotel
POST ROME HOTEL—Best Western Universo
EMERGENCY NUMBERS
TUTKU MAIN OFFICE: +90-232-4418676/77. TUTKU MALTA/ITALY OFFICE: Nataliya Braila +39-328-467 46 62. TOUR GUIDES: TBA. TUTKU PRESIDENT: Levent Oral +90-532-296-6921. Douglas Jacoby: +1678231888.
ITINERARY
Oct 29 Sat            ARRIVE MALTA
Arrive at Malta International Airport. Meeting and assistance at airport by English-speaking guide.
Airport-hotel transfers (provisional) 11:30pm – 1:00pm – 2:30pm – 4:00 pm (1130, 1300, 1430, 1600)
For early arrivals, private airport-hotel transfer service available at extra cost.
Transfer to hotel for check-in
Dinner & overnight at hotel in Malta
Today we will tour the Island of Malta—the place where Paul was shipwrecked and where he spent three months before departing, as a prisoner, to Rome (Acts 28:1,11).
Oct 30 Sun—MALTA
0800            Buffet breakfast at hotel
0900            Bus to Maritime Museum to see the Roman Period Anchors. Then to the capital of Malta, La Valletta. Go up to the Upper Barakka Garden (photo stop) by lift. Walking tour of Valletta, including St John's Cathedral and St Paul's Shipwreck Church.
1300             Lunch at leisure.
1400             Transfer to Rabat. Visit St. Paul's Grotto. Photo stop at St. Paul's Church. See House of Publius.
1700             Transfer back to hotel
1930             Dinner at hotel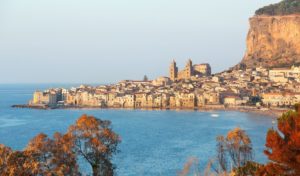 Oct 31 Mon—FERRY TO POZZALLO, SICILY—SYRACUSE
0730            Breakfast and check-out
0830            Depart for a full day (6 hours) tour. We will visit the places proposed for Paul's shipwreck: St. Paul's Bay, Mellieha Bay, and St. Thomas Bay. If open, we will visit the archaeological excavations at San Pawl Milqi
1300              Lunch at leisure
1430              Transfer to port
1700              Take a ferry from Malta to Pozzallo (Sicily). 
1845              Arrival to Pozzallo port; drive to Syracuse
2000              Check-in to hotel in Syracuse
2030              Dinner and overnight in Syracuse
Nov 1 Tue—SYRACUSE—FERRY TO REGGIO CALABRIA
0700            Breakfast and check-out
0830            Full day tour of Syracuse. Walking visit of Ortigia island in the morning.
1130            Go back to hotel and collect luggage.
1200            Bus to the Archaeological Area, followed by a light lunch.
1500            Drive to Messina (165km)
1800            Ferry to Reggio Calabria. 
1830            Transfer to hotel for check-in.
1930            Dinner and overnight in Reggio Calabria.
Nov 2 Wed—REGGIO CALABRIA—PAESTUM
0730           Breakfast and check-out
0800           Cathedral of Reggio Calabria. Proceed to the Museum of Magna Grecia
1030           Drive to Paestum (435km).
1630           Arrival to Paestum. Visit the archeological site and Museum of Paestum.
1900           Drive to Pompeii (77km)
2000           Check-in to hotel
2030           Dinner and overnight in Pompeii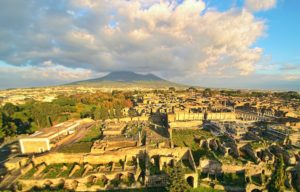 Nov 3 Thu—POMPEII—HERCULANEUM – NAPLES
0730           Breakfast and check-out
0845           Drive to Pompeii
1200            Light lunch in Pompeii
1230            Drive to Herculaneum
1300            Visit Herculaneum
1500            Continue to Naples
1545            National Archaeological Museum
1730              Dinner and overnight in Naples.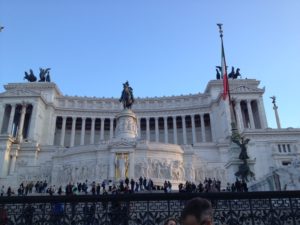 Nov 4 Fri—POZZUOLI—BAIA—ROME
0730            Breakfast at hotel and check-out.
0830            Drive to Pozzuoli.
0900            Visit Campi Flegrei followed by the Underwater Archaeological Park* (if open – may be closed in November). Proceed to the archeological site of Terme di Baia and the Serapis Temple/Macellum and Flavian Amphitheater in Pozzuoli in the afternoon.
1600pm        Drive to Rome (main highway, 3 hours).
1900             Check-in
1930             Dinner at hotel and overnight in Rome
Nov 5 Sat—ROME WALKING TOUR
0730            Breakfast
0830            Basilica San Pietro in Vincoli, Domus Aurea (subject to availability), Trajan's Column, Mamertine Prison, Arch of Constantine, Palatine Hill, Arch of Titus, Roman Forum, Colosseum, and the Mithraeum of Basilica San Clemente
1630             End of the guided tour. Free time for individual exploration.
1930             Dinner and overnight in Rome.
Nov 6 Sun—OSTIA and ROME
0700            Breakfast
0745            Communion service (TBD)
0830            Leave hotel
0930            Visit the archeological site of Ancient Ostia.
1200            Light lunch on your own in Ostia.
1300            Return to Rome
1400            St. Paul's Gate, Church of Saint Paul Outside the Walls, Tre Fontane church
1700            Transfer back to hotel
1930            Dinner and overnight in Rome

Nov 7 Mon—VATICAN—ROME
0730            Breakfast
0830            To Vatican City
0900            Visit Vatican Museum and Pio Christian Museum, Sistine Chapel & St. Peter's Basilica
1330           Visit Catacombs of St. Sebastian, Mausoleum of Cecilia Metella, and the Circus and Villa of Maxentius.
1630              Back to hotel
1930              Farewell dinner — overnight in Rome
Nov 8 Tue—Departures
Breakfast and check-out
Transfer to airport: Shuttle times (provisional): 05:00am – 07:00am – 09:00am – 11:00 am

Payment
Payment is most easily made by check (US and UK citizens), credit or debit card, PayPal, money order, bank wire, Venmo, or Western Union.
Checks: make out to T&R and mail to 957 Shy Ln, Marietta GA 30060. Bank wires: use exchange rate for day you post check, for example at xe.com. Or pay with any major credit or debit card (+3%), or by PayPal (3.5%, 4.4% [international] processing). Debit & credit: send your details (no., exp., amount) in two separate emails (for security). For international bank wire (there's a $15 bank charge), contact us. Or pay by Western Union or Venmo (@douglas-jacoby-1 —no charge). Choose the method best for you, and email your choice.
The deposit of $400 is due. If you're paying in full, of course, the deposit is included in the total. (Please read this, even if you are sure you won't cancel.)

Payment in full due 1 July 2022: $4040
After 1 July, please add $75
Single room supplement: $995               
DEPOSIT
$400 saves you a place on the tour. See the Payment section above for how to send this.
COVID-19 REGULATIONS
Malta-Sicily-Rome (Oct-Nov 2022): It's too far out to say, but if I had to guess, I'd bet that the Maltese and Italian governments will block unvaccinated passengers from entering their country.

Respect public health regulations and don't assume you're exempt. 
REQUIRED INFORMATION
Everyone on the BST should send in the following details:
Full legal name (as it appears on your passport)
The name you would like to appear on your name badge (first name and surname).
Gender
Your country or countries of citizenship.
Passport number
Passport expiration date. Your passport must have at least 6 months remaining (past date of end of tour).
Your birthday: day, month, and year
Please also send us the name of the city and nation where you reside.
If you are signing up for another person, be sure to include his/her email address.
CANCELLATION
Before 31 Mar 2022—100% of balance and 90% of deposit refundable.
Before 1 May 2022—100% of balance (only) refundable.
By 1 Jul—80% of balance...
By 1 Aug—60%
By 1 Sep—50%
By 1 Oct—40%
After 1 Oct 2022—no refunds.
TRAVEL INSURANCE (US members)
Travel insurance is available as a separate package at an extra cost. The cost of travel insurance is approximately $210 to $350, depending on length of tour, tour inclusions, etc. Tour participants may call our agents' associate office in New Jersey, Prime Travel, to purchase travel insurance and obtain the exact rate for your tour. The travel insurance policy is a contract between traveler and Insurance Company (Travel Guard, Allianz etc). Tutku Tours has no role in booking or in the payment of the travel insurance. When you call to inquire about travel insurance, please mention your group name (Tutku—BST Jacoby). Prime Travel's phone number: 1-201-825-1600. Contact: Mrs. Armagan Ayata or Mr. Sal Kesedar.
You may also want to check out the insurance plan with Faith Ventures.
ARRIVAL
We are all arriving at different times—though it's bound to happen that some of us will be on the same flights. I believe most of us have each other's cities and email addresses, so you may want to work out taxi sharing. Regardless of when you arrive, the BST begins officially with our Saturday evening dinner, at the hotel.
TIME
For the vast majority of us, Italy is not in our home time zone. A useful website for checking the time anywhere on the planet is WorldTime.
JET LAG
If you want some practical tips on beating jet lag, see what I've written at my website. See the jet lag article.
MONEY
Europe is expensive. But fortunately, apart from money for your airport transfers, you will need to cover only lunches and perhaps souvenirs. The currency of Malta and Italy is the euro. Accordingly, I suggest that 100-200 euros (not counting money for airport transfers) should be plenty. There are several handy websites for seeing understand foreign exchange. One useful website tool is www.xe.com.
ELECTRICAL
Not all plug ends are equal. If you are unsure which to use on your appliances overseas, you might want to visit Voltage Valet. As for voltage, European levels are normally 220v. Modern computers and phones are smart enough not to get fried if this is higher than your voltage back home, so converters are unnecessary. Hotels usually have some adapter plugs, but they often get lent out, so if you have a set, pack what you need.
CHURCH
We will have a short church service on Sunday morning.  Church (communion service) is 10-11:15 am.
TELEPHONES
Most European countries make it easy to phone when you're abroad. Not so for those arriving from North America. International calls on cell phones, unless you have arranged an international roaming package, are very dear. The easiest way is to phone using a computer or smartphone. I use Skype or WhatsApp. As long as I'm connected to a wifi network, phoning relatives in Britain or the States is easy.
WEATHER
Expect gorgeous weather at this time of year, probably in the 15-25 C pocket. (For those who are living in the 19th century, that's 50s to mid-70s F). There is a small chance of rain. (The Mediterranean wet season kicks into gear in November and December.)
CLOTHING & FOOTWEAR
Dress for comfort. We're roaming over some rocky / uneven ancient archaeological sites. There is only a moderate amount of climbing, apart from the slope of Vesuvius. Bring comfortable walking shoes. (Hiking boots are not required.)
LANGUAGE
If you work hard, there may still be time for you to become fluent in Maltese and Italian before the tour begins. Please let me know once you are; we can use your translation skills. DuoLingo is an excellent gap to get you on your way.
NAME BADGES
We will be creating your double-sided name badge. You will receive it at the opening dinner. Please wear your name tag lanyard at all times. This identifies BST members, makes it easier for interactions (who has a perfect memory when it comes to names, after all?), and enhances group cohesion.