Registered to date: 79.
Below: Spring 2019 tour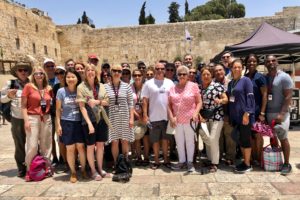 WALKING WHERE JESUS WALKED
We hear a good deal of talk about doing what Jesus would do (WWJD?), but how about walking where Jesus walked?
Benefits of joining the tour:
Your faith will be strengthened. You'll no longer have to imagine what the biblical world looks like. Now you can remember!
The fellowship is invigorating. Make new friends from around the globe. Since the Biblical Study Tours began, nearly 1000 persons have taken part!
Watch the Bible come to life revealing new dimensions—as you better your grasp of history, geography, biblical characters, and the flow of the biblical story.
With a more solid understanding of scripture, your confidence in talking to others will grow.
Your heart will fill with memories to last the rest of your life.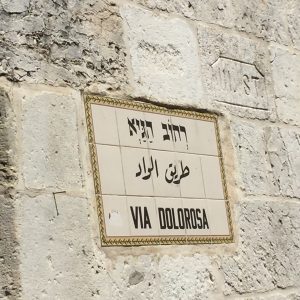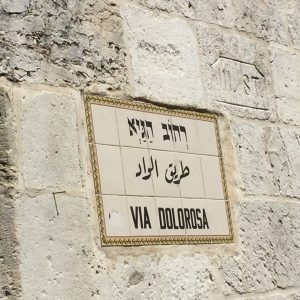 You've thought about these locations for years; now's your chance to experience them—or experience them anew, if this will be a return visit.
Sites
Includes most or all of the following: Mount of Olives, communion service and private prayer in Garden of Gethsemane, Western Wall Tunnel, Temple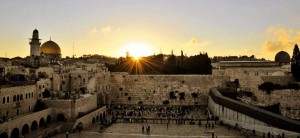 Mount, Church of the Holy Sepulchre, City of David, Beth Shean/Scythopolis, Armageddon, Dan, Caesarea Maritima, Caesarea Philippi, Qumran/Dead Sea Caves, synagogue and 1st-century home of Capernaum, Sea of Galilee devotional cruise, shopping, swimming in the Dead Sea, fortress of Masada, Sound & Light show in Tower of David, Nazareth Village, and much more!
Dates
Tour dates are 2-9 November 2019. We begin with dinner in Tel Aviv on the evening of 2 Nov, and the closing dinner is in Jerusalem on the 8th—you'll stay that night and fly out sometime on the 9th. Of course, you are more than welcome to arrive earlier, or leave Israel later.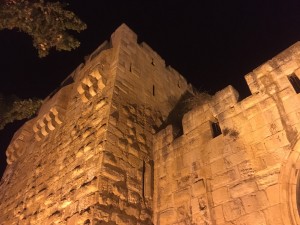 Walking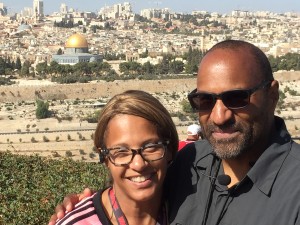 There is a fair amount of walking around the various sites, including hilly terrain, so a reasonable level of personal fitness is desirable, and good walking shoes are a must.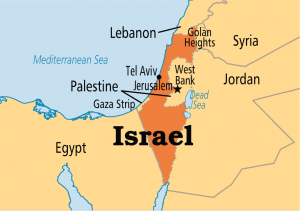 Responses to a recent tour:  Click here.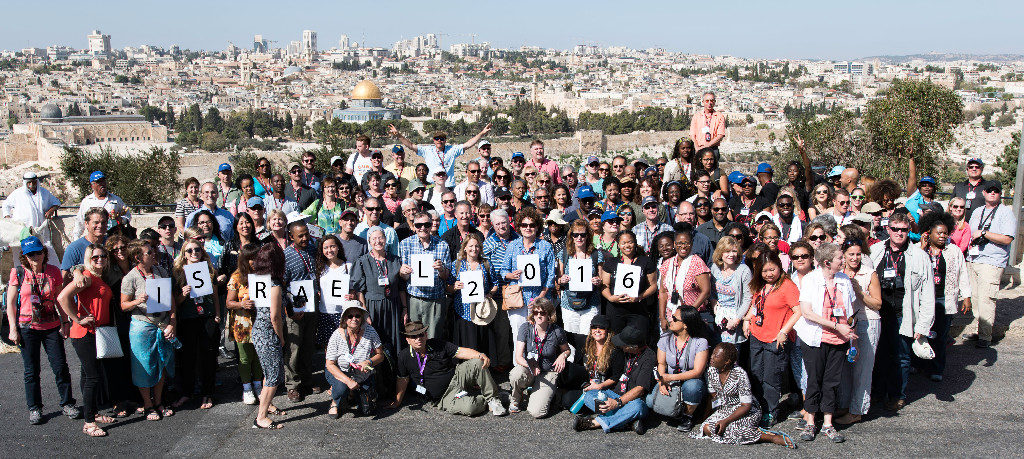 The 2016 BST (144 members). Shot taken on Mount of Olives, with Temple
Mount in background. Further down, the 2015 BST Reformation Tour.
The 2018 group was 115—photo below, from communion service in Gethsemane.
Previous BST and ITS locations (number of visits):
Athens (3), Berlin (2), Chicago, Colossae, Corinth (3), Delphi, Egypt, Ephesus (2), Geneva, Herculaneum, Hierapolis (2), Israel (11), Jordan (2), Laodicea (2), London (4), Oxford, Paris, Patmos (2), Pergamum, Pompeii (3), Rome (3), Sardis, Washington DC, Wittenberg (2), Zürich (1).
Below R: 2015 Reformation Tour, Wittenberg, Germany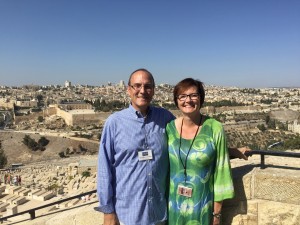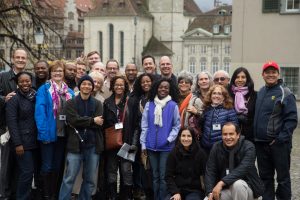 Information required
Everyone on the BST must provide the following details:

Full legal name (as it appears on your passport)
The name you would like to appear on your name badge (first name and surname).
Your country or countries of citizenship.
Passport number
Passport expiration date.  Israel will not let you enter the country if your passport doesn't have at least 6 months remaining.
Your birthday: day, month, and year
Please also send us the name of the city and nation where you reside.
Travel Insurance (US members)
Travel insurance is available as a separate package at an extra cost. The cost of travel insurance is approximately $210 to $350, depending on length of tour, tour inclusions, etc. Tour participants may call our agents' associate office in New Jersey, Prime Travel, to purchase travel insurance and obtain the exact rate for your tour. The travel insurance policy is a contract between  traveler and  Insurance Company (Travel Guard, Allianz etc). Tutku Tours has no role in booking or in the payment of the travel insurance.  When you call to inquire about travel insurance, please mention your group name. Prime Travel's phone number:  1-201-825-1600. Contact Person:  Mrs. Armagan Ayata or Mr. Sal Kesedar.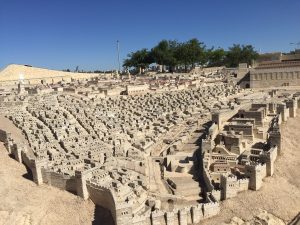 Hotels
Our hotels are in Tel Aviv (first night only), Tiberias, on the Sea of Galilee (the next two nights), and Jerusalem (the next four nights). Category: European 4-star. Price based on double-occupancy.
The hotels may change, but this gives you a good idea where we are staying:
AUTUMN ISRAEL TOUR SCHEDULE
Subject to change day-by-day
2 Nov Sat        Arrive Tel Aviv
1900                Orientation & welcome dinner at Hotel 
3 Nov Sun      Caesarea Maritima – Carmel – 1st C. Boat – Sea of Galilee
0615                Wakeup & breakfast
0745                Depart hotel
0900                Caesarea Maritima
1145                Mt. Carmel
1245                Lunch
1430                Arbel (scenic overlook of Sea of Galilee)
1530                First Century Boat Museum / coffee & ice cream break
1630                Devotional on Sea of Galilee
1800                Check in to hotel
1900                Dinner at hotel 
4 Nov Mon    Dan – Caesarea Philippi – Mt. Bental — Capernaum
0645                Wakeup call & breakfast
0815                Depart hotel
0930                Tel Dan
1130                Caesarea Philippi
1245                Lunch
1345                Mt. Bental (Six-Day War site / scenic overlook into Syria)
1500                Capernaum
1600                Return to hotel
1900                Dinner at hotel 
5 Nov Tue      Jordan River — Nazareth – Megiddo – Beth Shean – Jericho
0715                Wakeup call & breakfast
0845                Depart hotel for Yardenith (mouth of the Jordan)
1100                Nazareth Village & lunch
1430                Beth Shean (Scythopolis)
1545                Drive to Jerusalem via Jericho
1815                Check in
1900                Dinner at hotel 
6 Nov Wed    Gallicantu — Israel Museum — Free time – Western Wall Tunnel
0645                Wakeup call & breakfast
0815                Depart hotel for Gallicantu (High Priest's home & dungeon)
1000                Israel Museum
1330                Free time. Suggestions:
Old City on foot.  Ramparts Walk.  Tower of David Museum.  Terra Sancta Museum.  Burnt House Museum.  Church of Holy Sepulchre.  Gethsemane.  Walk around city walls.  Shop.
OR
Visit Bethlehem: Church of Nativity, Lunch, Shopping, Shepherds' Fields 
1830                Dinner at hotel
1915                Depart for Western Wall Tunnel Tour—1940, 2000, and 2020
7 Nov Thu      Masada – Qumran – Dead Sea – Citadel Sound & Light
0600                Wakeup call & breakfast
0730                Depart hotel
0915                Masada
1130                Qumran
1345                Meveh Midval Beach / Dead Sea
1515                Drive to Jerusalem
1900                Dinner at hotel
2030                To Citadel (Tower of David): Sound & light (2100-2140)  
8 Nov Fri        City of David – Hezekiah's Tunnel – Garden Tomb – Gethsemane
0630                Wakeup call. Breakfast at hotel
0800                Depart hotel: City of David, Hezekiah's Tunnel / Canaanite Tunnel
1100                Temple Mount (Davidson Center)
1245                Lunch in Old City
1415                Garden Tomb
Group photograph on Mount of Olives, then walk down to Garden of Gethsemane.
1900                Farewell dinner at hotel 
9 Nov Sat   
Breakfast. Fly back to your home country or continue exploring the Holy Land.
Electrical
For info on Israeli voltage and electrical plugs, click HERE.
Dress
May is a lovely time of the year. This is the Mediterranean dry season, and temperatures are very pleasant, with highs around 18-20 in the daytime (64-68 F). Nights are cooler, so bring a light jacket or sweater. Dress is casual. However, when we visit synagogues, church buildings, and other holy sites, shoulders and knees must be covered.
Getting to Israel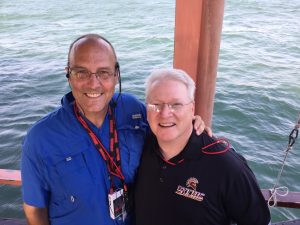 Fly into Tel Aviv (airport code TLV). While you are responsible for getting yourself to Israel, our agents will meet you at the airport on the 2nd and take you to our hotel. They will also drive you from Jerusalem back to the airport at the end of the tour, on the 9th. These airport transfers are included in the price of the tour.
Opening dinner / orientation
At the opening dinner on the 2nd, you will receive written materials, including your BST name badge, to be worn at all times during the tour. Steve and I, as well as the Tutku representative, will answer any further questions at this time.
Regardless of how tired you may feel — esp. for those who have traveled 10 or 20 hours to Israel — make yourself stay awake so that there's no chance you'll miss the welcome dinner. If you end up taking a nap, we suggest you keep it short (2-3 hours) — otherwise you'll make it difficult for yourself to get onto Israel time. Scroll down for suggestions on overcoming jet lag.)
Please do not arrive to Tel Aviv any later than 4 pm (1600) on 2 Nov. You will miss the opening dinner and orientation.
Flights
Airfare is not included in the tour price. Flights from the US are usually in the $900-$1500 range. Other thoughts:
As for airlines, if you are frequent flyers, stay within your system.
Shop around. I like www.kayak.com.
Sometimes you save by creating two itineraries. For this trip, I booked one round trip Atlanta-London-Atlanta, and another London-Tel Aviv-London.
And ask your friends who fly….

Jet lag
If you don't do a lot of international travel, you may appreciate these suggestions for overcoming jet lag.
Extra days
If you want to arrive early (on the 2nd or before) or leave later (10 Nov onward), that is fine. Our agents can help you, though I would ask Julie Billado. Or you can book your own hotel for those extra days. Sorry, airport runs are included only for the 2nd and 9th.
Note: If you are arriving early (middle of the night or early morning) you may want to pay for an extra night, as a rooms are not guaranteed before early afternoon. (More often than not, they are ready, but we cannot promise this.) Tutku Tours will be happy to extend your reservation so that your room will definitely be ready when you arrive.
Tutku are available at info@tutkutours.com.
Changing money (buying shekels)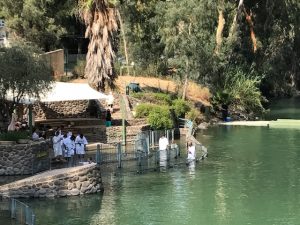 Of all the countries I've visited, Israel has the fairest money exchange. (There is negligible different between the buying rate and the selling rate.) You can change your money at the airport, while you're waiting for your luggage to arrive, or at any bank or exchange bureau. (Hotels also change money, but the rate is not quite as favorable.)
Security
Some people are uneasy about international travel, and especially about travel to the Middle East. Of course security is a priority—and Israel is by far the safest country in the Middle East. In fact, to be honest, in recent years there has been far more violence in Germany, France, Belgium, and the United States than in Israel.
In leading tours to Israel for nearly 20 years, we've never had an incident. The Israeli government backs the tourist agencies, so that if there is a legitimate need to cancel an entire tour, full refunds are available
Emergency contact
Here the contact numbers in the event you need to be reached urgently while in Israel, or if there is an issue and you need to talk to someone after you have arrived.
TUTKU ISRAEL OFFICE:  Mr. Ofek Lapid (Amsalem Tours) – Mobile Ph: +972-54-670-3625
OPERATIONS:  Ms. Sema Ankarali – Mobile Phone: +90-532-296-9396
PRESIDENT:  Levent Oral  -  Mobile Phone: +90-532-296-6921
Who may come?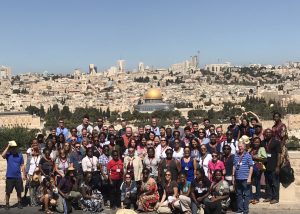 The tour is open to everybody, believers and seekers alike. Ideally any children who come will be mature enough to appreciate the sights.
There is a fair amount of walking around the various sites, including hilly terrain, so fitness is desirable, and good walking shoes (or boots) are a must. Expect 2-6 km/day on foot. Due to the amount of walking, and the sometimes uneven terrain, this is not a tour for young children—or for wheelchairs or baby strollers.
Photos: 2016 BST (above, on Mount of Olives)
2018 BST (below, in Garden of Gethsemane)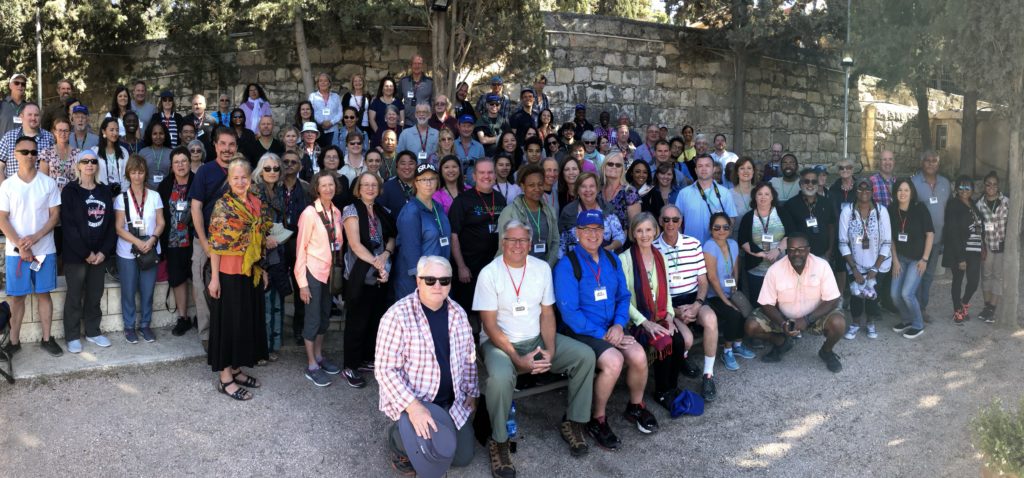 Advance preparation
Reading
You will find lots of ideas at Tripadvisor.
If you're looking for a comprehensive guidebook, I like the DK Eyewitness Travel volume.
If you want something more historical, Steve and Leigh Kinnard lived in Israel for more than a year and have suggestions. Just shoot him an email.
We both like the work of Bargil Pixner (With Jesus Through Galilee, With Jesus in Jerusalem).
You might also enjoy Randall Price's The Stones Cry Out (archaeology).
On the formation of modern Israel, read Alison Weir's short book, Against Our Better Judgment: The Hidden History of How the U.S. Was Used to Create Israel. 
BST members also like In the Footsteps of Jesus: A Chronicle of His Life and the Origins of Christianity (2nd edition, National Geographic, 2017).
Listening
Next, take a look at the following list of podcasts (with notes, in most cases), along with one text file, that you might find interesting. Here are the files:
ARCHAEOLOGY
THE ISRAELI/PALESTINIAN CONFLICT
For further recommendations (from our guides -- I have not read all of these)
Startup Nation, Dan Senor & Paul Singer
From Beirut to Jerusalem, Thomas Friedman
Jerusalem: A Biography, Simon Sehag Montefiore
From Time Immemorial, Joan Peters
Palestine Inside Out, Saree Makadisi
History of Modern Palestine, Ilan Pappe
One Palestine Complete, Tom Segev
Son of Hamas, Mosab Hassan Yousef
Unorthodox, Deborah Feidman
Gertruda's Oath, Ram Oren
My Promised Land, Ari Shavit
The Kingdom, Arabia, and the House of God, Robert Lacey
Jewish Pirates of the Caribbean, Edward Kritzler
But He Was Good to His Mother, Robert Rockway
Gideon's Spies, Gordon Thomas
The Prime Ministers, Yehuda Avner
Once Upon a Country: A Palestinian Life, Sari Nusseibeh
Commander of the Exodus, Yoram Kaniuk
Fast Facts on the Middle East Conflict, Randall Price
Arab & Jew: Broken Spirits in a Promised Land, David Shipler
The House on Garibaldi Street (on capture of Adolf Eichmann)
Underground Jerusalem, Sir Charles Warren (archaeology [1876] -- pdf).
Mossad, Michael Oren & Nissim Mishal
Let There be Water, Beth Seigal
Confessions of a Good Arab (Jewish-Arab marriage, Yoram Kaniuk)
De Niro's Game, Rawi Hage
The Blue Mountain, Meir Shalev
The Source, James Michener
Noddy & Big Ears Go to Town
Youtube

The Green Prince (about Son of Hamas)
Living in the Shadows (Al Jazeera)
bridgetgabriel.com (Lebanese refugees in Israel)

Photographs
For more photographs, please visit me at Facebook or Instagram.