Scroll to the bottom for an update from Stanley Dumornay.
Note: Fred Haight (the Dallas areas dentist who is coordinating donations) and I will be visiting Les Cayes and Port-au-Prince later in the year. Any donation you send to Haitian Support will be wisely allocated.
Damage report: sister congregation in the capital city.
From Fred Haight. Fred is a dentist (Dallas) who heads up Haitian support.
As you may have heard, the largest earthquake ever recorded in Haiti hit yesterday [12 January 2010] @5pm Eastern, in the largest city of Port-Au-Prince (population 3 million).
Here is what I know for sure.
1. The lead evangelist Jorel and his wife and kids are safe but their home was destroyed.
2. There are at least 12 church members who have been reported dead, as well as 2 children. Many members were wounded, some seriously. (The membership of the church is 300 adults.) In addition, several family members were killed.
3. The church building (which was owned by the church) was destroyed.
4. The airport is shut down.
5. Ground transportation is not possible; help is being flown in via helicopter.
7. A member of the church and a physician and board member of Hope-Haiti (a benevolent arm of the church) was hurt badly as the office he works in was destroyed.
If you would like to help please send your check to:
Haitian Support
6317 Preston Rd Ste 500
Plano, Texas 75024
Or donate online @ www.haitiansupport.org.

Thanks,
Fred Haight

The following is from Stanley Dumornay (former leader of Haitian churches), New York City
Therefore we will not fear, though the earth give way and the mountains fall into the heart of the sea, though its waters roar and foam and the mountains quake with their surging.
There is a river whose streams make glad the city of God, the holy place where the Most High dwells. Psalm 46:2-4
At least Twelve Disciples Die in Haitian Earthquake
The largest earthquake ever recorded in the region hit 10 miles from the Haitian capital of Port au Prince on Tuesday. As the poorest country in the western hemisphere, the people are suffering devastaing losses. A number of disciples have died and the Port au Prince church building is destroyed along with many homes.
Jorel Claude, who leads the work there, was out when it happened, but his wife and his their two boys were able to get out of their house before it went down. As of now they are fine but we don't know about their living situation. The church building is destroyed and so far 12 members have died that we know of.
Wilner Cornely (planted the church in Haiti), Chicago
I wanted to give you somewhat of an update on Haiti. Very little is known besides what we are getting on the news. The extent of the damage is not known. I have not been able to get to my family nor to anyone from the church. What we know is that many buildings have been damaged and many people are hurt and many people are trapped. One sister from the church in Canada was able to get to her husband, who is a disciple and a phycisian on the board of HOPE-Haiti. Unfortunately he is hurt badly as the office he works in was destroyed. He is seeking medical attention. Thanks for your concerns, support and prayers.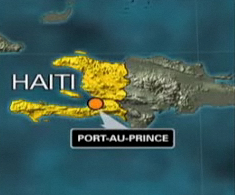 UPDATE FROM STANLEY DUMORNAY
"Do not, let your heart be troubled. Trust in God, trust also in me." John 14:1
Brothers and sisters,
What I have seen over the last few hours is beyond what I imagined. The scary thing is that there is more to see...
We made it into PAP from DR safely by the grace of God. I must admit that I was pretty nervous. But God opened the way for us and guided us safely all the way to the church's property were the disciples welcomed us as if we were angels of God. I am sobered by the display of courage I have seen in these brothers and sisters. Many of them have lost homes, employment, not to mention loved ones in the disaster. Yet they are still able to smile, sing and pray and serve others." Evangelist Jorel says" I had a place to live and many other things yet I had worries. Now, I have no place to live and very little yet I have less worries." This sentiment is shared by most of the disciples.
The faith of the church has been built up in spite of this catastrophe. Now that many have nothing...they really understand Paul's word that "if we have food and clothing we should be content."
The stories of those who have escaped by a miracle of God is both awe inspiring and eerie. Some where the only ones to make it out alive fom an office building with hundreds...the only family member to make it out of a house before it crumbled crushing their loved ones to death; one sister was out to get a report for a meeting with coworkers. While she was out getting the report her office crumbled killing all her coworkers...many such stories are common here...
We have talked witth the leaders about the short, mid and long term plans. We have also discussed their needs. Which is what I would like to give you an update on:
1) They need solar panels. Energy is very limited
2) They need medical professionals (nurses, doctors...) It is important that that those who come have a plan; have made adequate preparations. The church has its hands full...their ressources are very limited...they cannot be burdened by the needs of those who come to help...in other words before you come to help you have to decide if you will be more a burden than a help
3) They need more money donated. Bringing in lots of supplies like we did this morning has some risks-which I am afraid will only become more concerning as the general population becomes more desperate for food and water.
4) They need tents
5) Face masks...bodies all around are starting to decompose.
6) Water purification tablets. In great quantity. Dr. Mark Ottenweller and many others anticipate epidemics such as cholera, dissentry etc...due to water contamination
Please continue to pray for them. they are so grateful for all of you and so am I -all of us who are here are!!!!
Stanley Dumornay
(201) 247 6836