Introductory
Discovery (Muhammed edh-Dhib [the Wolf]), Nov 1946-Feb 1947
Khalil Eskander Shahin, or "Kando" (middle man)
1947-1956
Hidden since 68 AD
Other caves with manuscripts have been discovered (outside scope of this podcast).
The community
Monastery
Established in late 1st C BC
Near NW shore of Dead Sea at Qumran
Living quarters
Dining hall
Miqva'oth (immersion pools; singular miqveh)
Scriptorium
Women present? Bedouin graves.
Abandoned in First Jewish War
Language
Mainly Hebrew
Some Aramaic
A few Greek pieces
Materials
~100 papyri (round 10% of the scrolls)
~800 skins (nearly 90% of the scrolls are on vellum)
~1000 manuscripts in all
1 on Cu
Most DSS written outside Qumran
Content
Biblical manuscripts—about 40% 0f the scrolls (225 out of nearly 1000)

Psalms
Deuteronomy
Isaiah
Exodus
Genesis
Etc.

Commentaries
Apocryphal works—about 30%
Other religious writings—mainly in Hebrew and Aramaic, with some in Greek and Nabataean
Even a list of hidden treasure
How to decipher the scroll designations

Cave no.
Q = Qumran
Manuscript no.
Pictured: section of Temple Scroll from Cave 11: 11QTa

Yet there are several conventions (this is one one way of three of labelling the manuscript finds).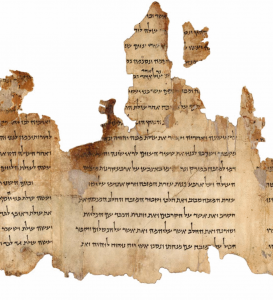 Conspiracy?
Delays in translation
Vatican cover-up?
Fully available in English since the early 1990s — even the scraps that are essentially unidentifiable
NT background 
Essene response to "system"
Viewed themselves as the true Israel (Songs of the Sabbath; War Scroll [1QM])
Frequent baptisms
Communal meals
Dozens of phylacteries found at Qumran
Donkey and ox – Matt 12:12
Angels, demons, heaven, hell, end-times, Messiah, apocalyptic battle, and more
11QTem64.7-13a = 4Q524 – crucifixion until dead for traitors (novel adaptation)
Reveals existence of a different Heb text type, from which the LXX was translated, superior to MT.
Illuminates the nature of apocalyptic literature – Daniel (Revelation); 1 Enoch; etc.
4QMMT – works of law justify us – Paul counters
CD 4.20-5.6; 6Q15; 4Q 226-273 — Essenes disagreed with the Pharisees, who permitted polygamy.
Josephus tells us that the Essenes taught one another to "hate evildoers and help the just."
Expectations about the Messiah

Community leader
4Q246 – Messiah is Son of God and Son of the Most High
4Q521 – When Messiah comes, heaven & earth obey him: dead raised; sick healed; oppressed rescued.
11Q13 – Isa 61: enemies destroyed; explains Luke 4 reaction. (Yet Ps 110 LXX was not interpreted as applying to the Messiah, but to Melchizedek.)
CD 7:18-8:1 = 4Q266 fr.3, 3.20-30; 4Q269 fr.5 ll.3-4 – Num 24:17 applied to coming royal messiah
The community may have anticipated two Messiahs, one priestly and one royal (Davidic). See 1QS 9.10-11; CD 7.18-20; 12.23; 1QSa 211-12.
1QIsaa

— the prize manuscript of the collection, containing all the important Messianic passages, like Isa 52:13-53:12
Apologetic significance
Seriousness about careful copying of scripture.
OT mss record: gap shrinks to a few centuries from over 1000 years!
DSS had already lasted centuries—even by 70 AD
Well explains the kind of Messiah expected—or not expected—in the time of Christ.