Bridging the Gap - A Special Event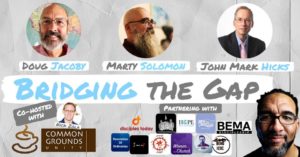 God's word is the standard yesterday, today, and forever. Whether you are a Baby Boomer, Generation X, Y, or Z, God's word equally applies to us all. Each generation has both strengths and weaknesses in how they view the world. As each generation faces new challenges in living for the Lord, how do we discuss healthy biblical interpretation in a productive manner?
We are excited to announce a special event taking place on January 13th, 2023, at 3:00 pm CST, entitled Bridging the Gap! Nick Zola of Common Grounds Unity will be co-hosting the discussion as we are looking to bridge connections between the various Restoration Streams.
We have invited Douglas Jacoby, Marty Solomon, and John Mark Hicks because of their decades of research and expertise. We have asked several Next Generation creators to submit both observations and questions for the panelists in an effort to facilitate healthy conversation:
Women in the Church- Corina Espejo and Travis Albritton
Eikon Podcast- Michael Burns and Jason Alexander
Space Makers- Janai Johnson and Meigan Whitcomb
Wound of My People- Jian White
Disciples Today- Lai-Yan Faller and Justin Renton
Bend ICOC- Joey Hungerford
HOPEww- Matt Rollins
That Bible Guy- Simon Dinning
I can not- Tom McGuirk
Revolution of the Ordinaries- Matthew Dabbs
The event will be livestreamed on both Facebook and Youtube. If you are not able to attend the livestream, the interview will be recorded and posted on Truth Trauma Theology and Common Grounds Unity Podcast. Please click the links below to access the interview or recording:
https://www.facebook.com/kylespears83/
https://www.youtube.com/@TruthTraumaTheology
*Please remember the event is not until January 13th, 2023. So if you click the link, there will not be an interview until that date.