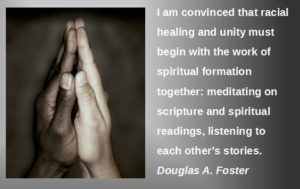 Point Park, part of the Chickamauga-Chattanooga National Military Park, sits atop Lookout Mountain overlooking Chattanooga, TN. In the years after its 1895 dedication, numerous markers and monuments were erected to commemorate the people and events of the battles.
The park's largest structure is the New York Peace Monument. Its ninety-five-foot-high pedestal is topped by bronze figures of a Union soldier and a Confederate soldier shaking hands. At the bottom a plaque quotes President William McKinley: "Reunited—One Country Again and One Country Forever."
At first, the monument seems to mark a wonderful reconciliation following the most devastating division in the nation's history. And to white Americans, it usually does. To African Americans, however, excluded from voting, denied adequate education and healthcare, and blocked from access to good jobs and homes, it was not and is not good news.
My decades-long work for Christian unity has been focused mostly on differences in doctrine and practice that divide believers. What I largely ignored, however, is that in American Christianity, race is as critical as any other factor in the Church's fractured state.
The solution is not simply multi-racial/ multi-ethnic churches. Bodies of different colors sitting in the same building does not bring unity. Black churches often served and serve as a place of refuge in a hostile white world.
I am convinced that racial healing and unity must begin with the work of spiritual formation together: meditating on scripture and spiritual readings, listening to each other's stories, coming to know the realities of American racism as experienced by our brothers and sisters of color, looking each other in the eyes and repenting of racist attitudes, and kneeling together in prayer.
Once that spiritual foundation is laid, then—and only then—can white Christians move to the essential steps of reconciliation. True reconciliation and unity can come only by knowing the full horrific truth of racism in this country, repenting of our action or complicity, then doing works worthy of repentance. We white Christians must humbly acknowledge the trauma our brothers and sisters of color have experienced, often at the hands of professed followers of Christ. We must reject the "white savior" complex but stand with and for our fellow Christians.
Some white Christians dismiss such a call for unity as a "left-wing social justice political agenda" or buying into "critical race theory." Let me assure you, there is no need to appeal to any political agenda or sociological theory for this call. The words of scripture are sufficient to convict and move Christians to act in love and repentance.
Unity is never easy. Many oppose it in the name of God! But it is still the prayer of Christ ("that they all may be one") and the responsibility of Christians ("maintain the unity of the Spirit in the bond of peace"). To neglect this is to neglect Christ's will.
By Douglas A. Foster, December 5, 2020
Some Additional Resources:
Douglas A. Foster, "Reclaiming Reconciliation: The Corruption of 'Racial Reconciliation' and How It Might Be Reclaimed for Racial Justice and Unity." Journal of Ecumenical Studies Winter 2020, pp. 63-81.
Robert P. Jones, White Too Long: The Legacy of White Supremacy in American Christianity. Simon & Schuster, 2020.
Dara T. Mathis, "The Church's Black Exodus." The Atlantic, October 11, 2020. https://www.theatlantic.com/politics/archive/2020/10/why-black-parishioners-are-leaving-churches/616588/
Richard Rodriguez, An Unsealed Indictment: How American Slavery Violated the Scriptures. R2Rock Publishing, 2019.
Jemar Tisby, The Color of Compromise: The Truth About the American Church's Complicity in Racism. Zondervan, 2019.  See introduction to an accompanying video study at https://www.youtube.com/watch?v=BNmm9cvmxmY 
---
Douglas A. Foster served as professor of church history and director of the Center for Restoration Studies at Abilene Christian University for twenty-seven years and now serves as scholar-in-residence. He co-edited The Encyclopedia of the Stone-Campbell Movement and The Stone-Campbell Movement: A Global History and has published several books and articles on Stone-Campbell history and racism in American Christianity. His latest book is "A Life of Alexander Campbell."