Registered: 

42

. Pre-tour: 

27

.
I. Background
II. Tour Itinerary (10 cities / ancient sites)
III. Pre-tour itinerary (5 cities)
IV. Payment & other logistics


I. Background
 


The goal of the Biblical Study Tours is to bring to life the world of the Bible

.


Nearly all the biblical story takes place around or near the Mediterranean, in the (modern) countries of Cyprus, Egypt, Greece, Iran, Iraq, Israel, Italy, Jordan, Lebanon, Macedonia, Malta, Syria, and Turkey. The top two countries, for biblical purposes: Israel and Turkey—the second "Bible Land."

Turkey has had a major impact on our world. Apart from its essential role in Christianity and Islam, its numerous cultural contributions include kebabs, the unforgettably powerful Turkish coffee, and Turkish delight (be sure to sample this delicacy). Major historical figures include the phenomenally wealthy King Croesus of Lydia (6th century BC), Sulëyman the Magnificent (16th century AD), and Mustafa Kemal Atatürk, the great reformer (1923+) and founder of modern Turkey, now with a population over 80 million. Turkey also takes prides in at least two Roman emperors, Constantine the Great (early 4th century AD) and Justinian (6th century).



Ancient Anatolia (corresponding roughly with the modern nation of Turkey) is ever in the background of the Old Testament, with a number of explicit references to the powerful Hittite Empire, which was centered there. One of the Seven Wonders of the Ancient World was located here: the Temple of Artemis in Ephesus, where the goddess was worshiped for 1000 years.


Yet it is in the New Testament that Turkey emerges front and center on the biblical stage. The ministry of Paul achieves special success there, and later (according to tradition) the ministry of the apostle John (based in Ephesus). In fact, if you skim the Book of Acts, and the N.T. letters, it quickly becomes clear that more Christian congregations are established in Turkey than anywhere else. Consider Ephesus, Colossae, Hierapolis, Laodicea, Smyrna, Pergamum, Miletus, Philadelphia, Sardis, Thyatira, Lystra, Derbe, and many more locations—many of which we will visit! Several provinces in Turkey familiar to readers of the New Testament are Asia, Bithynia, Cappadocia, Cilicia, and Galatia.



For early church history, early important

 countries include Israel, Syria, Egypt, Italy, Greece, and Turkey. Further, in the fourth century, the capital of the Roman Empire was relocated from Rome to Constantinople (modern Istanbul). Numerous Christian councils met in this land (at Nicea, Constantinople, Ephesus, Chalcedon), mainly to discuss the relationships among the persons of the Trinity.

Benefits of participating in the Biblical Study Tour:
Your faith will be strengthened. You will no longer have to only imagine what the biblical world looks like. Now you can remember!
The fellowship will be invigorating. Make new friends from around the globe.
The Bible will come to life, revealing a new dimension, as you better your grasp of history, geography, archaeology, and the movement of the biblical story.
Equipped with a more solid understanding of scripture, your confidence in talking to others will grow.
Your heart will fill with memories to last you the rest of your life.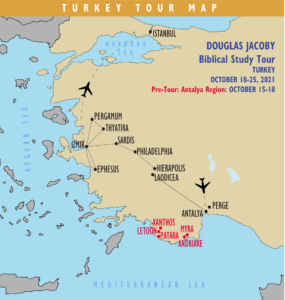 II. Biblical Turkey Tour Itinerary


18-25 October 2021
 


Max. capacity: 80 persons.


Oct 18 Mon—Arrive Antalya Airport (airport code AYT)—

you're probably connecting from Istanbul, where you will clear customs—otherwise you will clear customs in Antalya. After baggage claim, the 

representative will meet you with a "BST—TUTKU TOURS" sign. Meet and transfer to the hotel for dinner and overnight.



Oct 19 Tue—Antalya region, with Dr. Mark Wilson
We will explore Antalya (biblical Attalia—Acts 14:25), then the Greco-Roman city of Perga (Acts 13:13–14; 14:25). Stop at St. Paul Cultural Center & Church for short free time and lunch. Afternoon visit to the award winning Antalya Archaeology Museum. Dinner and overnight in Antalya.




Oct 20 Wed—Laodicea (Col 2:1; 4:13-16, Rev 1:11; 3:14)—Hierapolis (Col 4:13) / Pamukkale
Drive to Lycus River Valley. First, tour of Laodicea to see the latest excavations. Then drive to nearby Hierapolis to see the newly found Tomb of Philip. Dinner and overnight in Pamukkale.

Oct 21 Thu—Philadelphia (Rev 1:11; 3:7)—Sardis (Rev 1:11; 3:1-4)–Smyrna [Izmir] (Rev 1:11; 2:8)
Drive to Alasehir to see the remains of the Philadelphia church. Continue to Sardis, capital of ancient Lydia, where the world's first coins were minted. See the remains of the massive Artemis Temple. Proceed to Smyrna, modern Izmir to see the agora of Smyrna. Dinner and overnight at hotel in Izmir.

Oct 22 Fri—Ephesus Tour—Izmir
Visit the famous ancient city of Ephesus (Acts 18:19-24; 19:1-35; 20:16-17; 21:29; 1 Cor 15:32; 16:8, 1 Tim 1:3; 2 Tim 1:18; 4:12; Rev. 1:11; 2:1), and its Terrace Houses, the Ephesus Archaeological Museum, and the Basilica of St. John. Dinner and overnight in Izmir. 

Oct 23 Sat—Pergamon (Rev. 1:11; 2:12)—Izmir Airport—Fly to Istanbul
Leave for Pergamon. Take Cable Car up to panoramic Acropolis. Visit the acropolis, with the steepest theater of the ancient world and the Temple of Trajan. Then visit the Asklepion, the ancient healing center. Transfer to Izmir Airport for late afternoon flight to Istanbul. Dinner and overnight at the hotel in Istanbul. 

Oct 24 Sun—Istanbul Tour
Full day Istanbul tour; visit the Roman Hippodrome Square, Blue Mosque with its beautiful blue tiles, Hagia Sophia Church, built by Constantine the Great and reconstructed by Justinian in the 6th century, one of the world's greatest architectural marvels and a designated World Heritage site. Then visit the Istanbul Archaeological Museum, containing important Bible artifacts. Return to the hotel for dinner and overnight.

Oct 25 Mon—Breakfast and transfer to the Istanbul Airport (IST) for departure.


III. Pre-tour Itinerary
Antalya Region, 15-18 October 2021—with Prof. Mark Wilson


.
Why come on the pre-tour?
For one, this is a superb opportunity to learn about the ancient world, the ministry of the apostle Paul, and the workings of archaeology. Dr. Mark Wilson, head of the Asia Minor Research Institute, is an expert on biblical Turkey for many reasons, like his Ph.D. on the Letters to the Seven Churches of Rev 2-3—besides the fact that he and his wife live in Turkey.
For most of us, this will be our only time to visit Turkey. Maximize your experience—learn all you can.
Another benefit is that having these earlier days in Turkey will take the edge off any jet-lag—you'll be fresher once the main tour starts.
And of course the fellowship of a smaller group is extra encouraging; when the tour proper begins, you will already know a number of fellow participants.

Size of pre-tour: Around 20 persons.

Bring sturdy footwear, which will be needed for Termessos (Monday).
Oct 15 Fri—Arrive Antalya Airport. Meet and transfer to the hotel for dinner and overnight.

Oct 16 Sat—Visit Myra, Nicholas Church—and ancient synagogue in Andriake. Overnight in Kalkan.
Oct 17 Sun—Visit Patara–Letoon–Xanthos. Dinner & overnight in Fethiye.
Oct 18 Mon—Fethiye–Termessos–Antalya
Selected books by Mark Wilson:

IV. Payment & other logistics
Cost per person, main tour, double occupancy: $1990
Single room (if you're traveling alone—don't have roommate), extra $550.
NOTE: If you had paid in full for the postponed 2020 tour, you owe nothing else—the price remains the same. However, if you are refunded and change your mind, the price is as above.
Payment accepted: Credit card, Debit card, Western Union, Venmo (douglas-jacoby-1), Cash, US check, UK cheque, bank wire. For credit cards, 2.5% processing fee. For wires, bank fees must be paid on both ends. (Please add $15 for the charge on the US end.)
Deposit required to reserve your place: $300. To reserve, please send an email to dj@douglasjacoby.com. Note: Being on the Interest list is not the same as being registered—this requires a deposit.
Cancellation policy (click for terms)
Hotels: 2 nights at 4-star Best Western Khan Hotel

in Antalya

; 1 night at 5-star Doğa Thermal Hotel

in Pamukkale

; 2 nights at 4-star Mövenpick Hotel

in Izmir

; 2 nights at 4-star Mövenpick Golden Horn 

in Istanbul

.
Pre-tour hotels: 1 night in 4-star Best Western Khan Hotel

in Antalya

; 2 nights in Patara Prince Hotel, Kalkan.
Included: Daily breakfast & dinner at the hotels, all entrance fees to sites, headsets for each participant, transportation in private air-conditioned tourist coaches, all tips, airport transfers on 18 Oct, transfers on 25 Oct (also 15 Oct for pre-tour), flight Izmir-Istanbul. Li

censed tour guide(s) & Douglas Jacoby co-lead the tours.

Payment: $1990
(Pre-tour $840)
(Biblical Archaeology Review price: $1970 / $790)
Single supplement: $550

(Pre-tour $235)

Excludes: Flights (except for ADB-IST), health & travel insurance, lunches, and personal expenses.
Visas:

We suggest visiting Turkey's website, 

www.evisa.gov.tr

, to get the visa

online

in advance—and bring a printed copy with you. Be sure also to ensure your passport has sufficient extra pages for the visa—and that it does not expire less than 6 months before the date you return to your home nation.

Walking: As we will walk many ancient sites—usually 2-6km/day (1-4 mi)—be sure to bring good walking shoes or boots. A reasonable level of physical fitness is required.
Flights: Consider Turkish Airlines, who often have the lowest prices. They are a safe, reliable company, with flights to/from 120 countries.
Pre-tour per person, double occupancy: $840. Single room: extra $235. Deposit: $200.
Note: Travelers coming alone (if we have an odd number) will be placed in (and charged for) single rooms. There is a single supplement. We will try to find your a roommate, but cannot guarantee this. If you are definitely coming alone, and do not want to pay for the single room, then register as early as you can.
May we bring our children?

Kids age 12 and up are welcome, provided you believe they will get something out of the tour. Please, no children under 12.
They will need to participate like everyone else (i.e., not withdrawing or playing games).
Prices are same for kids as for adults.
There are no triple rooms as such, though it is possible 3 could share. The price, however, is the same as for 3 persons in double rooms. (No savings.)

COVID-19 regulations

Currently, only a PCR test negative result is needed to board flights (within 72 hours of your international flight). Our agents will help to arrange our PCR tests prior to our return flights. The testing fee is US$35. There is a small chance that this test may no longer be required by October.
Respect public health regulations and don't assume you are exempt. On my last flight to the UK (April 2021) a number of passengers were refused permission to board—and several more were removed from the flight—for not having their paperwork in order.

Info needed for each participant:

Full legal name

 (as it appears on your passport)

The name you would like to appear on your name badge (first name and surname).
Gender
Your country or countries of citizenship.
Passport number
Passport expiration date.  Turkey will not let you enter the country if your passport doesn't have at least 6 months remaining.
Your birthday: day, month, and year
Please also send us the name of the city and nation where you reside.
And last, an email address—for each participant—which is used for all communication.