WALK WHERE JESUS WALKED
For those who love the Scriptures, the Biblical Study Tour opens a panorama of both history and imagination. The BST takes us to places of biblical significance (for both testaments) and can literally change the way we read God's Word. Tour leaders: Drs. Douglas Jacoby (Atlanta) & Steve Kinnard (New York). Other teachers on the tour include Joey Harris (Augusta) and David Bercot (of Real Heretics fame).
There's a lot of talk about doing what Jesus would do (WWJD?), but how about walking where Jesus walked? Vicki and I would like to invite you to join our 2016 annual tour -- as we return to Israel. Note: If you would like to join but are unable this year (or if we run out of space) please consider coming along on the 2017 tour (24 July - 1 August 2017).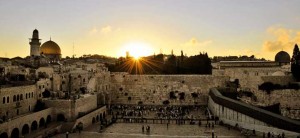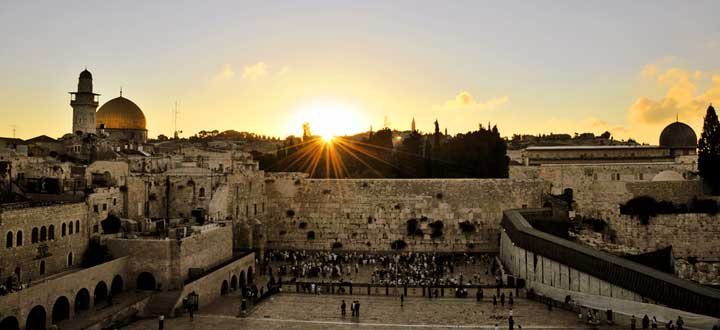 Benefits of joining the tour
Your faith will be strengthened. You will no longer have to only imagine what the biblical world looks like; now you can remember!
The fellowship is invigorating. Make new friends from around the globe.
Your heart will fill with memories to last you the rest of your life.
The Bible will come to life, revealing a new dimension, as you better your grasp of history, geography, archaeology, and the movement of the biblical story.
Equipped with a more solid understanding of scripture, your confidence in talking to others will grow.
You've thought about these locations for years; now's your chance to experience them -- or to experience them anew, if this will be a return visit.
Sites
Includes most or all of the following: prayer in Garden of Gethsemane, Mount of Olives, Garden Tomb, visit to Herodion (tomb of Herod the Great), Bethlehem, Jordan River, Hezekiah's Tunnel, Pool of Siloam, Warren's Shaft, Western Wall Tunnel, Temple Mount, Holy Sepulchre, Israel Museum/Dead Sea Scrolls, Armageddon, Dan, Maritime Caesarea, Hazor, Decapolis, Qumran/Dead Sea Caves, Capernaum, Bethsaida, Sea of Galilee, Bethsaida, Masada, underground tunnels of Jerusalem, and more!  Complete provisional itinerary.
Dates
The tour is 24-31 October. We begin with dinner in Tel Aviv on the evening of 24 October, and the closing banquet is in Jerusalem on the 30th -- you'll stay that night and fly out sometime on the 31st.
If you're flying through the night, you will leave home on the 23rd to land on the 24th. Breakfast on the 31st is included; return home anytime that day.
Who may come?
The tour is open to everybody, believers and seekers alike. Children age 12 and above are also welcome, provided they are mature enough to appreciate the sights. College students, check with your university to see if this trip can count for course credit. There is a fair amount of walking around the various sites, including hilly terrain, so at least average fitness is desirable, and and good walking shoes are a must.
As of 20 July, the 2016 BST group draws from 20 nations, and ranges in age from 14 to 70.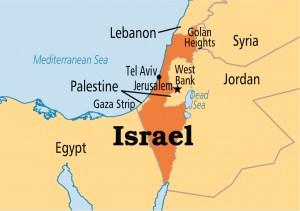 Price
The price for the BST is just $1750. Includes all breakfasts and dinners, admission fees to sites, tips, porters' fees, transportation by private coach, and airport transfers. All you need to bring with you is money for lunches and gifts. Payment in full is due 1 July. If you have not paid in full by 30 June, or 1 July at the very latest), the deposit will be forfeited and your space will be given to someone on the waiting list. (Sorry, no exceptions.)

Those signing up for the tour after June -- space allowing -- may pay a slightly more than $1750, as this will entail extra work for us and our agents. (Total should be less than $1800.)
Price based on double-occupancy in hotel rooms. If you're coming alone, or would prefer a single room, there is a $460 single room supplement. If you prefer a roommate, we will do what we can to connect you with another tour member coming alone -- but we cannot promise.
Hotels
Our hotels are in Tel Aviv (first night only), Tiberias, on the Sea of Galilee, and Jerusalem. Category: European 4-star. Price based on double-occupancy. What better family Christmas present than a trip to the Holy Land?
Payment
Payment is most easily made by check (U.S. and U.K. citizens, but can also be made by credit or debit card, PayPal, money order, or bank wire. You can send a check made out to T&R to 2256 Rushmore Dr, Marietta GA 30062. (For Britons, use the exchange rate for the day you post the check, which you can easily calculate at xe.com.) Pay with any major credit card (+2.5% processing) or debit card (+2.5%) or by PayPal (+2.5%). Debit and credit card: send your details (no., exp., and amount) in two separate emails (for security). To make an international bank wire (including $15 bank charge), contact us. You can also pay by Western Union (no extra charge). Decide which payment method is best for you.
Deposit
A deposit of $200 was due by 1 March.
Cancellation policy
You can view the cancellation policy here.
Information required
Everyone on the BST will need to send the following details:

Full legal name (as it appears on your passport)

The (first) name you would like to appear on your name badge.

Your nationality

Passport number

Passport expiration date

Your birth day, month, and year
Group size
The group size will be 140-150. Number registered for 2016 tour: 144. Number already registered for July 2017 tour: 23. (2017 Interest list: 116.) 
Getting there
Fly into Tel Aviv (airport code TLV). While you are responsible for getting yourself to Israel, our agents will meet you at the airport on the 24th and take you to our hotel. They will also drive you from Jerusalem back to the airport at the end of the tour (31st).
Extra days
If you want to arrive early (on the 23rd or before) or leave later (1 November onward), that is fine. Our agents can help you, or you can book your own hotel for those extra days. Sorry, airport runs are included only for the 24th and 31st, although the agents will be happy to work something out (extra cost).
Flights
Airfare is not included.
For those coming from the U.S., Turkish Airlines (via Istanbul) has a fare of only $717. But these fares go up and down. If you wait a few months, this fare may have risen to $1200 or thereabouts. Watch this space for updates on fares from New York JFK.
Update: If anyone out there snags a great deal, please share it with me, so that I can share it with the group. Los Angeles to Tel Aviv for about $850!  Atlanta to TLV for a little over $1200 (requires 2 stops). Speaking of stops, if you don't mind a long layover in Kiev, you can fly JFK to TLV for about $650.Update: On 19 Feb I saw flights around $500 from the US to Europe. Check out Vayama.
Update: on 29 Mar another member just booked her flight to Tel-Aviv Israel through Cheap-o-air from Orlando for just $890.
Update: I have just returned from Istanbul. Tourism is down, which may mean that airfares will continue to remain favorable.
Interested?
Communication will be made through email. If you would like to join Vicki and me on the tour, please send an email. Let me know how you will pay your deposit (see above). I will then contact you personally. Once you're in the system, updates will be sent to you periodically. You could also plan on joining us for the summer 2017 Israel tour.
Emergency contact
For tour members, here are the contact numbers in the event you need to be reached urgently:
TUTKU ISRAEL OFFICE:  Mr. Ofek Lapid (Amsalem Tours) – Mobile Ph: +972-54-670-3625
OPERATIONS:  Ms. Sema Ankarali – Mobile Phone: +90-532-296-9396
PRESIDENT:  Levent Oral  -  Mobile Phone: +90-532-296-6921
GUIDES: Isaac Karasenti - 052-3751156
2017 Tour
We are hosting another Israel tour in 2017. This will be in the summer (easier for families and college students to participate). The dates are 24 July-1 August.
Previous BST and ITS locations (number of visits):
Athens (3), Berlin (2), Chicago, Colossae, Corinth (3), Delphi, Egypt, Ephesus (2), Geneva, Herculaneum, Hierapolis (2), Israel (6), Jordan (2), Laodicea (2), London (4), Oxford, Paris, Patmos (2), Pergamum, Pompeii (3), Rome (3), Sardis, Washington DC, Wittenberg (2), Zürich
                                                    This page is updated frequently.