BIBLICAL STUDY TOUR (and International Teachers' Seminar)
19-26 October, 2013
(The 2014 tour location is being considered: Rome/Pompeii, Israel, and Switzerland are probably the front runners.)
The annual Biblical Study Tour is here! Here's a broad-brush picture: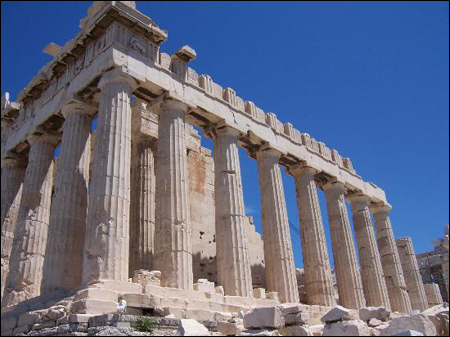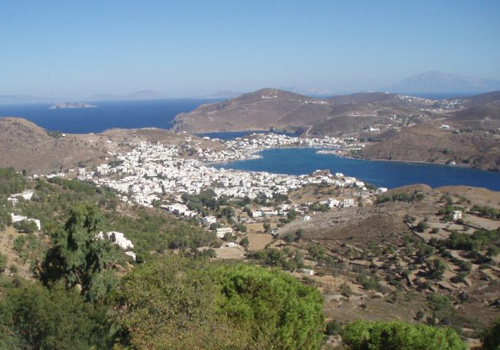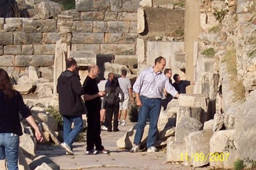 SCHEDULE
Arrive 18th if you are taking part in the Corinthian pre-tour. Dinner that night is included.
Arrive 19th if you are beginning with the main tour. That evening is our welcome dinner.
Sunday 20th: church service, explore Athens (Areopagus, Acropolis, Agora), ITS orientation, dinner in Plaka
Monday 21st: Free time (ITS am meeting), lunch, explore more of Athens, Sounion, then to harbor. Boat for Patmos departs 1900.
Tuesday 22nd: Explore Patmos, traditional Greek lunch, boat to Ephesus
Wednesday 23rd: ITS meeting, Explore Ephesus, dinner, Women's program
Thursday 24th: Colossae, Hierapolis (overnight in Hierapolis), ITS meeting
Friday 25th: Laodicea, Sardis, and return to Ephesus; closing dinner; final hour of ITS
Saturday 26th: (breakfast included) return home. Post-tour begins: Explore Miletus and more of Ephesus.
Sunday 27th: depart (breakfast included) -- post-tour group only
PRICE: US$1600. This does not include airfare.
WHERE: Athens, Corinth (for those who come early), Patmos, Ephesus, Hierapolis, Colosse, Sardis, Miletus, Laodicea.
Athens, Corinth, and Patmos are in Greece; the other cities, in Turkey.
TRANSPORT: We will use a combination of buses, boats, and walking.
WHO IS WELCOME: Anyone who is interested: Christians, Jews, Muslims, atheists, agnostics, family members, work associates... Every year there are seekers in our group, and the Bible teaching and fellowship is sure to boost their faith.
CHILDREN: Children are welcome, provided they are old enough to understand and appreciate the tour. On one of our recent tours, we had 20 children (they had a great time). If you bring children, please make sure they will be age 12 by the time of the tour. $100 off for each child 12-17.
INCLUDED: Most meals, European 4-star hotels in Athens, Ephesus, and Hierapolis (double-occupancy), admission to sites, boat Athens-Patmos and Patmos-Ephesus, teaching fee, all tips, insurance (Turkey)
OPTIONS:
*** Come 1 day early and explore Corinth (price $260/person, including hotel & meals]). Visit the ruins of the city, pagan temples, the acropolis, and numerous sights referred to in the Bible. It's a few hours' bus journey from Athens. We will depart immediately after breakfast and return shortly before dinner (with the main group).
*** Stay 1 day later and explore more of the stunning Ephesus area, as well as Didyma and Miletus (price $160, including hotel, breakfast & dinner]. Turkey is full of biblical sites. The main tour takes in 5 of them. But there's more!
*** Sign up for the International Teachers' Seminar (which will take place on the Aegean and the province of Asia), if you want to be involved in the international Bible teaching ministry. The ITS theme: 4-DIMENSIONAL BIBLE STUDY: EXPLORING THE SCRIPTURES THROUGH HISTORY, GEOGRAPHY, ARCHAEOLOGY, & CULTURE. Participating in this part of the BST will turbo-charge your Bible study, and the benefit of learning on-site in up to 9 biblical locations. You can sign up for the program anytime. Participants will be expected to attend all ITS sessions. Teachers include Douglas & Vicki Jacoby, David Bercot, Joseph Harris, Steve Kinnard, Ed & Deb Anton, Steve Brown, Glenn Giles, and Kay McKean. Price: $150. Subject to slight variation because of euro/dollar rate.
WOMEN'S PROGRAM: The tour will include special women's classes (Deb Anton, Kay McKean, Vicki Jacoby).
FLIGHTS: Fly from your country to Athens, depart Izmir (biblical Smyrna) through Athens or Istanbul and home. Land in Athens on the 19th; we begin with a dinner that evening. (Arrive one day earlier if you choose the Corinth excursion). Fly out the 26th, or the 27th if you decide to stay for the extra day.
REGISTRATION:
-- Registration after 1 June 2013, $1600. (Please check with me that there is still space.)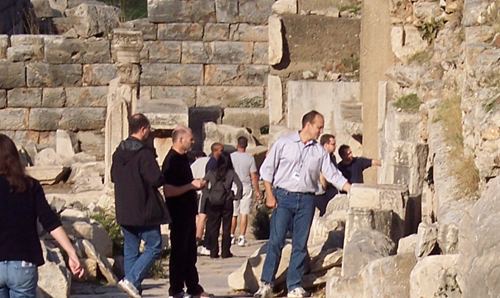 14 previous Biblical Study Tours have taken place in Israel/Egypt/Jordan, Paris, Berlin/Wittenberg, Athens/Corinth, Ephesus, London/Oxford, and Rome/Pompeii. (There was no tour in 2012, to allow for the World Discipleship Summit, San Antonio)
17 Previous International Teachers' Seminars have taken place in London, Jerusalem, Atlanta, Paris, Berlin/Wittenberg, Athens, Washington DC, Chicago, and Rome.
About 500 persons have participated in our tours, which have ranged from 22 to 165 persons. For Athens/Patmos/Ephesus 2013, we have 93 participants, a number of whom have attended previous BSTs.
The 2013 participants are flying in to Athens from California, Colorado, Florida, Georgia, Hawaii, Illinois, Massachusetts, Minnesota, New York, Pennsylvania, Texas, Virginia, Washington DC; Canada, China, Colombia, France, Germany, Italy, Nicaragua, Nigeria, Russia, Singapore, Switzerland, and Trinidad.