[ For the
Winter
2019
Israel tour,
click here
. ]
PAGE 1 of 2
2019 BIBLICAL STUDY TOUR (27 May - 3 June)
Spaces: 85. Registered to date: 23.
WALKING WHERE JESUS WALKED
We hear a good deal of talk about doing what Jesus would do (WWJD?), but how about walking where Jesus walked? We would like to invite you to join the 2019 annual tour -- as we return to Israel.
Benefits of joining the tour:
Your faith will be strengthened. You'll no longer have to imagine what the biblical world looks like. Now you can remember!
The fellowship is invigorating. Make new friends from around the globe. Since the Biblical Study Tours began, nearly 1000 persons have taken part!
Watch the Bible come to life revealing new dimensions -- as you better your grasp of history, geography, biblical characters, and the flow of the biblical story.
With a more solid understanding of scripture, your confidence in talking to others will grow.
Your heart will fill with memories to last the rest of your life.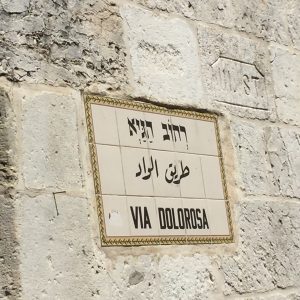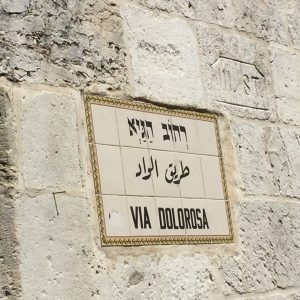 You've thought about these locations for years; now's your chance to experience them -- or experience them anew, if this will be a return visit. Price: $1899.
Sites
Includes most or all of the following: Mount of Olives, communion service and private prayer in Garden of Gethsemane, Western Wall Tunnel, Temple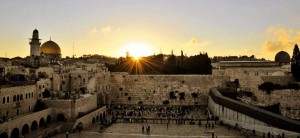 Mount, Church of the Holy Sepulchre, City of David, Beth Shean/Scythopolis, Armageddon, Dan, Caesarea Maritima, Caesarea Philippi, Qumran/Dead Sea Caves, synagogue and 1st-century home of Capernaum, Sea of Galilee devotional cruise, shopping, swimming in the Dead Sea, fortress of Masada, Sound & Light show in Tower of David, Nazareth Village, and much more! Click for the provisional itinerary.
Dates
Tour dates are 27 May-3 June. We begin with dinner in Tel Aviv on the evening of 27 May, and the closing dinner is in Jerusalem on the 31st -- you'll stay that night and fly out sometime on the 1st.
Post-tour: Bethlehem - Dig for a Day - Jerusalem 
There is also an option to extend 3 days, in order to experience several sites we are unable to take in during the main (7-day) itinerary, including Bethlehem (Church of the Nativity),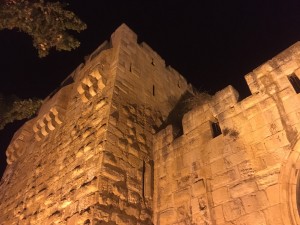 the Citadel (Tower of David), Yad Vashem (holocaust memorial), Burnt House Museum, Jerusalem Model, Shrine of the Book (Dead Sea Scrolls), Israel Museum, and The Valley of Elah, where David killed Goliath.
We will be staying in the Prima Royale Jerusalem for the first two nights, and the Leonardo Plaza in Ashdod for the final night. Price $949.
Who may come?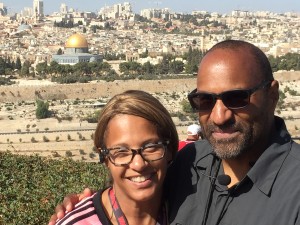 The tour is open to everybody, believers and seekers alike. Children age 12 and above are also welcome, provided they are mature enough to appreciate the sights.
There is a fair amount of walking around the various sites, including hilly terrain, so a reasonable level of personal fitness is desirable, and good walking shoes are a must.
Securing a space (paying the deposit), and personal information required
Payment details, early payment discount, and cancellation policy
Orientation (opening dinner)
Hotels, electrical info, security
Flights, overcoming jet lag, changing money (buying shekels)
Emergency contact info, extra medical insurance, and more...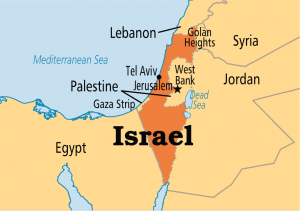 Responses to a recent tour:  Click here.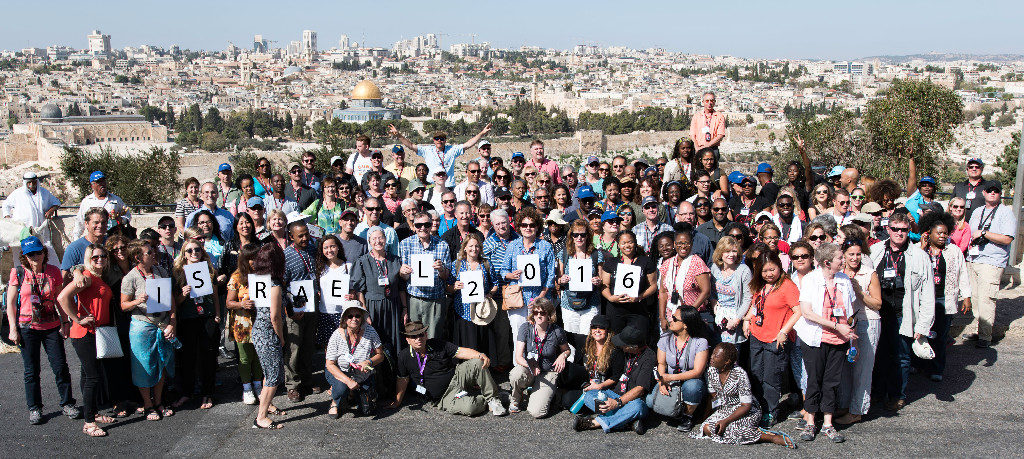 The 2016 BST (144 members). Shot taken on Mount of Olives, with Temple
Mount in background. Further down, the 2015 BST Reformation Tour.
Below: 2017 group (85 members). The 2018 group was just under 120.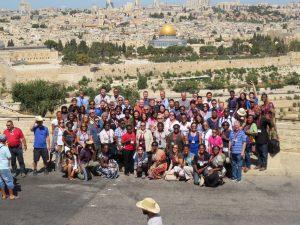 Previous BST and ITS locations (number of visits):
Athens (3), Berlin (2), Chicago, Colossae, Corinth (3), Delphi, Egypt, Ephesus (2), Geneva, Herculaneum, Hierapolis (2), Israel (10), Jordan (2), Laodicea (2), London (4), Oxford, Paris, Patmos (2), Pergamum, Pompeii (3), Rome (3), Sardis, Washington DC, Wittenberg (2), Zürich (1).
Below: The Jacobys on Mount of Olives;
2015 Reformation Tour, Wittenberg, Germany